The Census is Conducted once every 10 years, and your response matters.
The census provides critical data that lawmakers, business owners, teachers, and many others use to provide daily services, products, and support for you and your community.  Every year, billions of dollars in federal funding go to hospitals, fire departments, schools, roads, and other resources based on census data.
You can make a difference- Complete the Census today!
What does this mean for Larimer County?
With more than 350k people, Larimer County stands to receive $800M annually to support a variety of essential services and supports.
You can click here to access an informational graphic with more details about how federal dollars are used to fund our programs.
Census News
In an effort to keep communities and census workers safe during social distancing, the Census Bureau has requested an extension to the self-response window until October 31st. You can now respond to the Census on your own, online or over the phone, any time before October 31st. 
For more on the latest updates and changes to Census Operations, click the link below: 
Census Operational Adjustments due to COVID-19
For Rural Households: 
How Households in Rural Areas Should Respond to the Census
Hand delivery of census packets to housing units that receive mail at a Post Office Box has resumed as of May 18th, 2020. Many rural households will be receiving census information in the days and weeks to come. We recommend the following actions for households in rural communities responding to the census:
For rural households that have received a Census invitation: Households should complete their census immediately using their unique Census ID. It can be done online, by phone, or by mail.
For rural households that have not received a Census invitation but have a city-style address (such as "123 Pine St"): Households can complete their census online, by phone, or by mail. Households should provide their street address, not their Post Office Box number, when asked to login.
For rural households that have not received a Census invitation and do not have a city-style address: Households should wait to receive their invitation from the U.S. Census Bureau and then respond immediately using the unique Census ID noted on the mailing.
 It's never been easier to respond online at 2020census.gov or over the phone at 1-844-330-2020. 
Census Social Corner:
Your Response Can Make a Difference 
Counting everyone in the 2020 Census can help communities receive funding for education, healthcare, emergency services, and more. Over the next decade, lawmakers, business owners, and many others will use 2020 Census data to make critical decisions for communities nationwide. Go to 2020Census.gov now to respond and shape our future!
---
60% of Households Nationwide Have Responded to the Census! 
The country has reached another important milestone in the 2020 Census. 60% of all of the households in the country have responded – that's 88,700,000 responses! If your household has not yet responded to the 2020 Census, now is the time!  It has never been easier to respond to the census on your own, whether online at 2020census.gov, over the phone, or by mail. 2020census.gov. #2020Census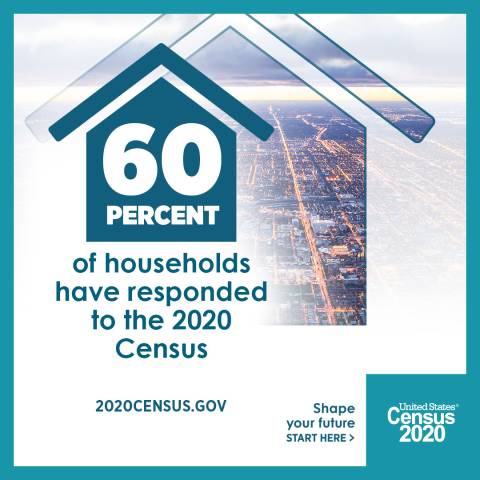 See how your neighborhood compares!
Check out the Census self-response rates for Larimer County using this interactive map, updated daily. 

---
FAQs
The census is a short survey that counts all persons living in the United States that is conducted every ten years by the federal government and is required by the U.S. Constitution.

Funding- Information from the Census determines the distribution of more than $675 billion in federal funds, grants, and support to states, counties, and communities.

Political Representation- After each decade's census, state officials redraw the boundaries of the congressional and state legislative districts in their states to account for population shifts. Census numbers will be used to reapportion the House of Representatives, determining how many seats each state gets.

Decision-Making- Government, businesses, nonprofits, and foundations use Census data to allocate funding, define where services are delivered, and promote economic development.

Many households have already received an invitation in the mail to complete the Census, with the first round of invitations being sent in mid-March. You should complete the Census as soon as possible, and the census will be available for a short time from March until August this year.  Beginning in May, the Census Bureau will follow-up in person with households that have not yet responded to the Census.

This year, the Census is available online, over the phone, or by mail. It has never been easier and more accessible to respond to the census on your own!

To complete the Census online, go to:

www.2020census.gov .  Click on the green "RESPOND NOW" button to begin.

 

To complete the Census over the phone, use the following options:

English: 844-330-2020

Spanish: 844-468-2020

Other languages at www.2020census.gov/en/contact-us.html

Everyone! Every person living in the United States should be counted. Residents should respond to the Census based upon the location where they live the majority of the time. 

Questions asked on the Census will include:

The number of individuals living or staying in a home (house, apartment, mobile home, etc.) on April 1, 2020
Is the home rented, owned (with or without a mortgage), or occupied without payment or rent.
A phone number for a person in the home.
The name, gender, age, date of birth, Hispanic/Latino/Spanish origin, and race of each person staying in the home.
Whether each person usually lives or stays somewhere else (most of the time).
The relationship of each person to a central person in the home.

NOTE: The Census will never ask for your social security number, bank account or credit card information, money, or anything on behalf of a political party. 

Yes. The Census Bureau cannot release any identifiable information about you or your responses, even to government or law enforcement agencies. Federal law protects any information provided in the Census and prohibits sharing any census responses that identify individuals until 72 years after the information is collected.