Cameron Peak Fire Recovery
For resources and information specifically related to Cameron Peak Fire Recovery please refer to this page: https://www.larimer.gov/wildfire-resources
See the below graphic for our current wildfire recovery collaborative structure: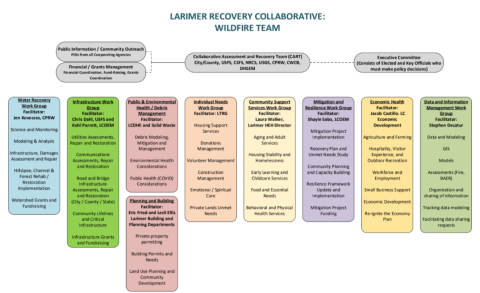 Larimer Unmet Needs and Community Fragility Study
Larimer County conducted a study following the 2012 High Park Wildfire and the 2013 Flood to look at both the unmet needs following disaster as well as the overall fragility of each community to future disasters. This study looks at three specific areas: community connectedness, local and county leadership, and available lifelines. The study has been a valuable tool in planning efforts and projects countywide. 
2013 Flood Recovery
Larimer County is not immune to large-scale emergencies and disasters. Each year, our community faces a variety of hazards, from hazardous materials incidents on roadways to natural incidents such as floods and wildfires. Larimer County Office of Emergency Management is tasked with the ongoing recovery from the large incidents in 2012 and 2013 as well as building a program for recovery for the future, ensuring we capture lessons learned and implement best practices in the future.
The Colorado Department of Transportation created a playlist of episodes named The Road to Resiliency Series to highlight repair projects from the 2013 Flood. This is one of the 17 videos as part of The Road to Resiliency Series.