Water Conservation & Sharing | Water Education Series, Session 2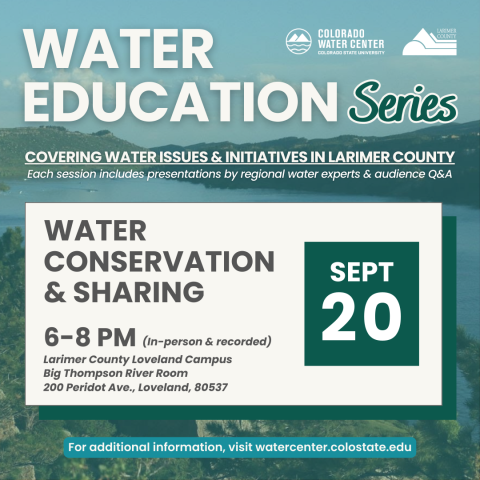 Let's Learn About Water In Larimer County 
Learn how you can positively impact Larimer County Water
Overview: 
Four monthly sessions will be held from August - November 2023 to engage Larimer County community members with relevant water-related issues and initiatives in the region.  Each session will include:
Water 101 introduction
Presentations from regional water experts
Audience question & answer period
Panel discussion
9.20.23 | 6-8 pm | Session 2: Water Conservation & Sharing
Location:
Larimer County Loveland Campus
Big Thompson River Room, 200
Peridot Ave, Loveland, CO 80537
Recording Link (available at a later date)
Water Conservation & Sharing Session Agenda: 
Introduction and Water 101
Karen Schlatter | Associate Director, Colorado Water Center
Karen Schlatter is the Associate Director of the Colorado Water Center at Colorado State University. She leads the development and implementation of the Center's outreach and engagement strategy and specializes in stakeholder engagement and watershed planning and management. Karen previously worked at the University of Florida Water Institute to improve water management in Florida through projects related to climate change, agricultural management practices, and freshwater systems. She also worked at the Sonoran Institute for a decade, leading landscape-scale restoration of the Colorado River Delta in Mexico.

Overview of Agriculture and Water Use
Greg Peterson Colorado Ag Water Alliance
Greg Peterson is the Executive Director of the Colorado Ag Water Alliance, which is comprised of agricultural leaders from across Colorado committed to the preservation of agriculture through the wise use of Colorado's water resources. Greg received a Masters in Political Economy of Resources from The Colorado School of Mines and worked as a teacher previously.

Agricultural Water Efficiencies & Conservation
Joel Schneekloth | Colorado Water Center
Joel Schneekloth is the Water Resources Extension Specialist at the Colorado Water Center. He is responsible for the development of research and demonstration projects relating to water quantity and quality issues that are attributable to agriculture and urban water use and helps to develop educational programming to help magnify these water issues to the public. Joel specializes in drought education and mitigation, irrigation management, and alternative cropping systems. Healso collaborates with Nebraska and Kansas on regional water issues.

Water Sharing Between Agriculture and Municipalities
Brett Bovee | President and Principal, WestWater Research
Brett Bovee is the President of WestWater Research based in the Fort Collins office. Brett brings close to 20 years of experience conducting a variety of engineering, economic, and water rights studies across the Western states. He assists clients in buying water rights, valuing water, evaluating water supply risk, and planning for future water challenges. Brett brings a unique perspective to projects, combining a background in water resources engineering with a developed knowledge of water rights and economics.

Urban Water Use & Conservation
Mariel Miller | Water Conservation Manager, Fort Collins Utilities
Mariel Miller is the Water Conservation Manager for the City of Fort Collins Utilities. Mariel works collaboratively across City departments and in partnerships with community members and organizations to advance effective, equitable, and forward-looking approaches to water demand management through efficiency programs, plans and policies. Her background includes over 15 years of work in local government where she has served in complimentary roles as a land use planner, sustainability coordinator and public works director..

Innovations in Urban Green Infrastructure & Stormwater/Rainwater Capture
Jessica Thrasher | Diversity, Equity, and Inclusion Program Leader, Colorado Water Center
Jessica Thrasher is the Diversity, Equity, Inclusion (DEI) Programs Leader at the Colorado Water Center. She focuses on creating and managing programs that promote a diverse water workforce that represents the communities served, equitable access to water resources and information, and developing resources that promote integration of DEI practices into the water field. She is dedicated to fostering collaboration, innovation, and inclusion of diverse prospectives to build an equitable, sustainable water future for all. 

Open Discussion & QA
Event Date:
Wednesday, September 20, 2023 -

6:00pm

to

8:00pm
Per the Americans with Disabilities Act (ADA), Larimer County will provide reasonable accommodations to qualified individuals with a disability who need assistance. Services can be arranged with at least seven business days' notice. Please email
accessibility@larimer.org
or call (970) 498-5967 or Relay Colorado 711. "Walk-in" requests for auxiliary aids and services will be honored to the extent possible but may be unavailable if advance notice is not provided.