Economic and Workforce Health Data Dashboard
Data Notes
Data Values and Sources
Data sources and information on measures and methods are available for every item at the "more" link. Data represents what was the most recently available data in the 1st quarter of the current calendar year. All topics will be revisited and updated during the first quarter of the calendar year. 
Trends
Trends are presented as the most recent data points (typically annual,  minimum of two,  maximum of five). If it is not appropriate to use the data as a time series, no trend will be presented, even if multiple years of data are available. 
Rankings
Rankings are always ordered such that the #1 ranked item is the more preferable value (lowest or highest, depending on metric). Items without ranking either lack comparable data from other locations, or it is not appropriate to rank the data (e.g.: no clear 'preferable' high/low value or the measure's methodology does not support ranking). Each item's detail page ("more" link) will include limitations on the data's use or design in the text.
Values with comparisons fall into one of these groups:
9 County Peer Group: Larimer, Adams, Arapahoe, Boulder, Denver, Douglas, El Paso, Jefferson and Weld Counties.

This group represents the Colorado counties with which Larimer exchanges its work force.  Each county here has been consistently included in both the top 10 Colorado counties that are home to employees of Larimer-based employers and the top 10 Colorado counties where employers of Larimer residents are based since 2005 (U.S. Census Bureau, LEHD, OnTheMap).

This criteria was selected because employers and communities in these counties compete for the same workers and residents that are valuable to our community and Larimer employers.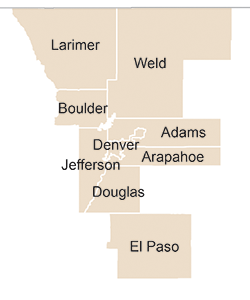 7 Colorado MSA Group: Boulder MSA (Boulder County), Colorado Springs MSA (El Paso and Teller Counties), Denver MSA (Denver, Arapahoe, Jefferson, Adams, Douglas, Broomfield, Elbert, Park, Clear Creek and Gilpin Counties), Fort Collins MSA (Larimer County), Grand Junction MSA (Mesa County), Greeley MSA (Weld County) and Pueblo MSA (Pueblo County)

Metropolitan Statistical Areas (MSAs) are geographical regions with high population density core and close economic ties throughout the area. These are Census defined areas that are used as units for analysis or statistical estimates. They are named for the more densely populated core. In Colorado, many of these MSAs align to county boundaries. For some data products, the MSA is the smallest geographic unit for which they are available. The Fort Collins MSA is sometimes called the Fort Collins-Loveland MSA and it shares its boundaries with Larimer County.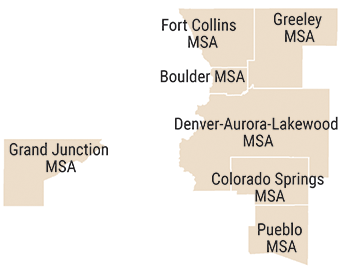 13 Competitive Employment States: Colorado, Texas, California, Arizona, Florida, Wyoming, Illinois, New Mexico, New York, Utah, Kansas, Nebraska and Washington

The U.S. Census data tracks people moving between states specifically for a job change. These states are generally among the top states each year both for a Coloradoan to move to for a job and for someone to move to Colorado for a job (U.S. Census, Job-to-Job Flows Explorer). This indicates that employers in these states compete for or trade talent with Colorado.

State level data is only used in this dashboard if data for a specific metric is only available at a state level.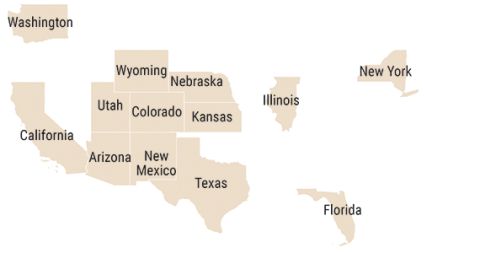 Acknowledgements 
This project has grown out of the input, guidance, assistance and collaboration of many individuals and teams
The Larimer County Workforce Development Board members for their vision, guidance and diligence in overseeing this project.  
The Larimer County Board of County Commissioners for supporting new and innovative approaches for delivering services.
Larimer County Economic and Workforce Development and especially Amanda Repella for design, content, data aggregation, chart development and project implementation.
Larimer County IT Web Service Team for their design input, technical assistance and implementation of the template for the dashboard interface.
Many items and methodologies presented here were originally produced for the Greater MSP's Regional Indicator Dashboard. We are thankful to them for sharing their methodological documents. 
The COMPASS of Larimer County project (2001 – 2011) for creating the original web-based community indicators project for Larimer County.