HAE
Dogs in Food Service Establishments and Grocery Stores
Primary tabs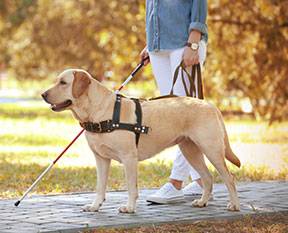 Colorado's Retail Food Safety regulations do not permit non-service animals in restaurants and grocery stores. Only service animals are allowed. A service animal is defined as, an animal such as a guide dog, signal dog, or other animal individually trained to provide assistance to or conduct tasks for an individual with a disability.  The disability may be physical, sensory, psychiatric, intellectual, or other mental disability. Only dogs can be service animals. An animal that provides only emotional support, comfort, therapy, or crime prevention is not considered a service animal by Americans with Disabilities Act (ADA). A service animal is a working animal; not a pet.
Examples of work or tasks they can do include:
Assisting individuals who are blind or have low vision with navigation and other tasks.
Alerting individuals who are deaf or hard of hearing to the presence of people or sounds.
Providing non-violent protection or rescue work.
Pulling a wheelchair.
Assisting an individual during a seizure.
Alerting individuals to the presence of allergens.
Retrieving items such as medicine or the telephone.
Providing physical support and assistance with balance and stability to individuals with mobility disabilities.
Helping individuals with psychiatric and neurological disabilities by preventing or interrupting impulsive or destructive behaviors.
What restaurants and grocery stores are required to do?
Store managers and staff need to be diligent to exclude non-service animals from food establishments. Store employees need to be trained as to what is required, what animals are permitted, what questions can and cannot be asked to evaluate if an animal is truly a service animal or not, and how to exclude non-service animals from the establishment in a professional and businesslike manner.  Staff does not need to question individuals if the need for the service animal is obvious. Examples include when a dog is guiding an individual who is blind or is pulling a person's wheelchair.
Restaurant and grocery store staff are obligated to ask two questions if they are unsure if a dog is or is not a service animal. Those questions are:
Is this animal required because of a disability?
What work or task has this animal been trained to perform?
Managers and staff may not ask about the nature or extent of an individual's disability or require documentation, such as proof that the animal has been certified, trained or licensed as a service animal, or require the animal to wear an identifying vest.
The animal's handler is responsible for the care and supervision of his or her service animal. According to the ADA, "Generally, the dog must stay on the floor, or the person must carry the dog.  For example, if a person with diabetes has a glucose alert dog, he may carry the dog in a chest pack so it can be close to his face to allow the dog to smell his breath to alert him of a change in glucose levels."  If a service animal behaves in an unacceptable way and the person with a disability does not control the animal, a business has the right to ask that the dog be removed. A business also has the right to deny access to a dog that disrupts their business or poses a direct threat to the health and safety of others. For example, if a service dog barks repeatedly or growls at customers, it could be asked to leave.
Aren't service dogs required to wear some sort of identification?
No. The ADA does not require service animals to wear a vest, ID tag, or specific harness.
My dog is my emotional support animal. Can I bring him/her inside a restaurant or grocery store?
No. The ADA considers such "emotional support animals" to be distinct from psychiatric service dogs, and treats them differently. The ADA does not grant emotional support dog owners the same right of access to public places that it gives to individuals who use psychiatric service dogs. The key distinction to remember is that a psychiatric service animal is actually trained to perform certain tasks that are directly related to an individual's psychiatric disability. The dog's primary role is not to provide emotional support. It is to assist the owner with the accomplishment of vital tasks they otherwise would not be able to perform independently. In addition, a psychiatric service dog must not only respond to an owner's need for help, the dog must also be trained to recognize the need for help in the first place. A dog must be able to both respond and recognize to be a service dog.
By contrast, an emotional support dog is a pet that is not trained to perform specific acts directly related to an individual's psychiatric disability. Instead, the pet's owner simply derives a sense of well-being, safety, or calm from the dog's companionship and physical presence
Are some food establishments allowed to have non-service animals?
Yes.  Some restaurants and grocery stores have developed sanitary practices and procedures and have been granted a variance to the regulations that prohibit non-service animal on their premises.  Food manufacturing facilities that are not required to hold a retail food establishment license, such as some brewery tasting rooms are allowed to have non-service animals in customer seating areas.
Is it against the law for individuals to say their pet is a service animal?
Yes. Under Colorado state law HB16-1426, it is a crime for an individual to knowingly misrepresent an animal as a service animal. A person who violates this law and has received a previous verbal or written warning can be charged and may be subject to fines ranging from $50 - $500.
For more information on service animals, visit the ADA's website.