Proclamation and Award Honors Ranger Brendan Unitt
The Larimer County Board of County Commissioners has officially proclaimed October 20, 2020 as 'Brendan Unitt Day' and accepted the announcement of the Brendan Unitt Community Service Award to honor his sacrifice and dedication.

Brendan Unitt was a 2011 graduate of Windsor High School and served his country in the United States Marine Corps. A graduate of Colorado State University, he dedicated his life to helping others in Larimer County.

Brendan began to serve as a Larimer County Natural Resources Boat Ranger at Horsetooth Reservoir in 2020 and committed himself wholeheartedly to providing safety assistance and emergency response to visitors at Horsetooth Reservoir. Without hesitation he selflessly responded to an emergency call for help from a distressed boater on August 20, 2020 when he risked and lost his life to save another. He was 27 years old. 

"Brendan Unitt's exemplary life of service and dedication to the people of Larimer County is typical of our entire team of Park Rangers. We can all learn a valuable lesson from the incredible life that Brendan lived. We are fortunate and blessed to have had him among us," said Larimer County Commissioner Steve Johnson.

In honor of his ultimate sacrifice, the Brendan Unitt Community Service Award was announced and will be issued annually to one outstanding Larimer County employee who demonstrates in action the values of selflessness, honor, and dedication to community service as Brendan did.
Brendan Unitt was honored posthumously as the first recipient of the award, which was accepted by his mother, Katherine McAneny.   Details regarding the Brendan Unitt Community Service Award will be announced in 2021. 
About Larimer County Department of Natural Resources
Natural Resources manages Larimer County's great outdoor places, including magnificent open spaces and water-based recreation areas, and fosters responsible land stewardship through weed management and healthy forest practices. To learn more, visit www.larimer.gov/naturalresources.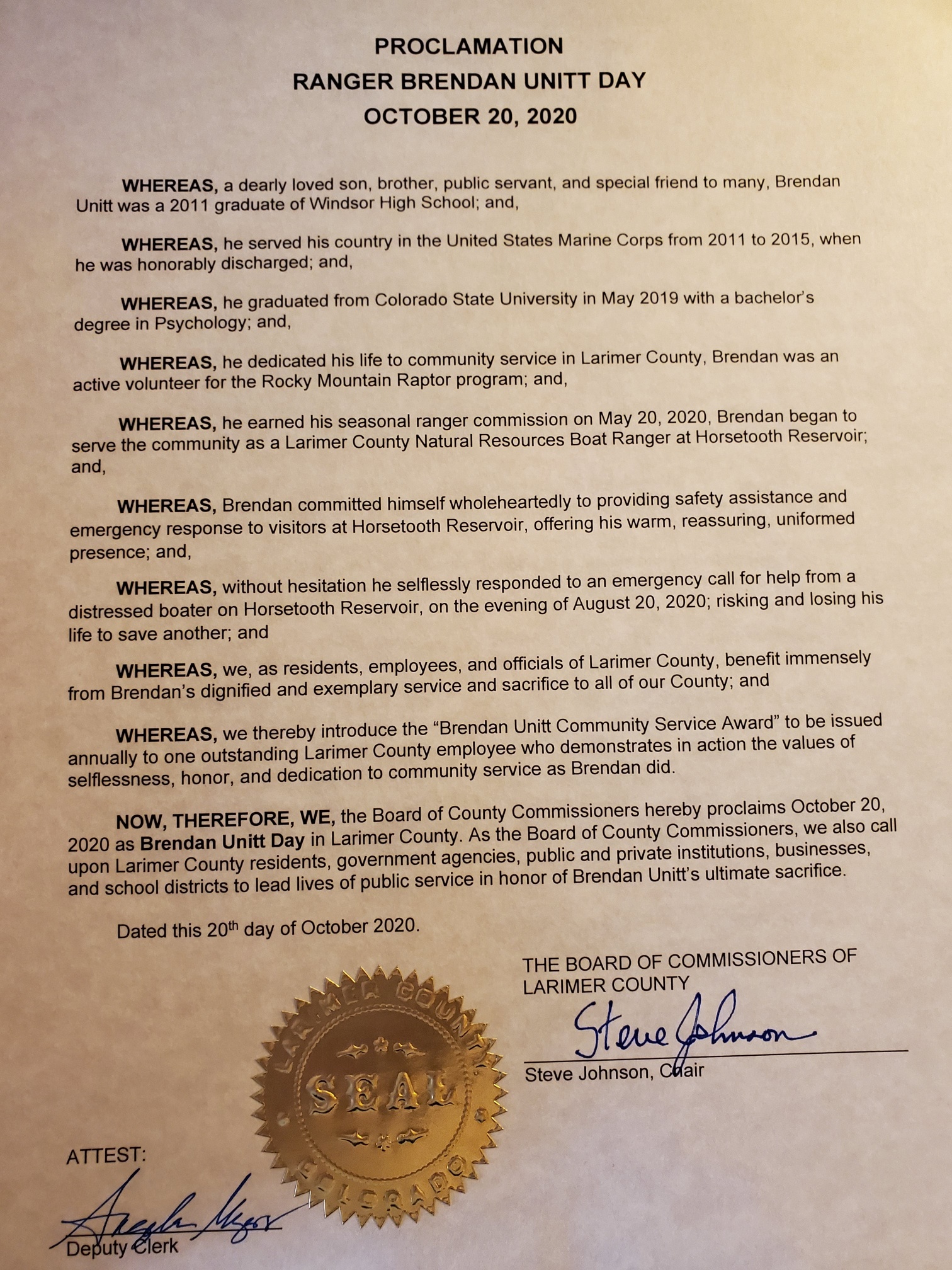 Published on:
Tuesday, October 20, 2020 - 10:46am
Daylan Figgs, Director
Larimer County Natural Resources
(970) 619-4570 or dfiggs@larimer.org
Natural Resources