A shining star, county receives disability employment award

Larimer County has received an award from the State of Colorado for its work toward hiring people with disabilities.
The Board of Larimer County Commissioners recognized Larimer County Inclusion Administrator Nicole Berg for receiving the annual State of Colorado Division of Vocational Rehabilitation Shining Star of Disability Employment Award.
Berg was also chosen to speak last month about hiring individuals with disabilities at the Colorado Department of Labor Division of Vocational Rehabilitation's Employer Week, in recognition of October as National Disability Employment Month.
"It looks like we're making great progress in this area, and I wish to say thanks to you all," said Larimer County Commissioner John Kefalas.
Larimer County was recognized by the state in one of only four categories, the large employer category.  Hiring those with disabilities is part of Goal Two, Objective Two in the 2019 – 2023 Larimer County Strategic Plan.
"Work is one of the most tangible ways for a person to prove their value in society. Anything we can do to help folks --- the payback comes back to us all in so many ways," said Larimer County Commissioner Tom Donnelly.
Larimer County has learned to tailor employment opportunities for those with disabilities through job coaching, preparing for interviews, and ensuring a good fit for job candidates. Larimer County plans to continue its work toward inclusion and hiring people with disabilities to bring their talents to the workplace.
The year 2020 also marks the 30th anniversary of the Americans With Disabilities Act, which prohibits discrimination on disability in employment.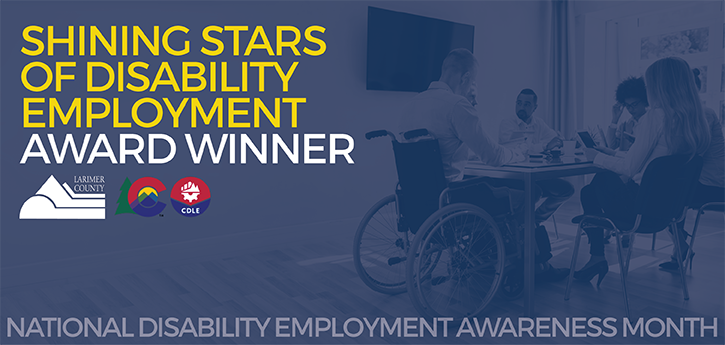 Published on:
Monday, November 9, 2020 - 9:50am
Human Services