Donation center accepting donations for residents affected by 2020 fires
A Donation Center for residents impacted by the recent 2020 Larimer County wildfires is accepting donations to help those with property damage or loss from the fires.
The center is located at the Outlet Mall of Loveland, 5561 McWhinney Blvd., Loveland, Colorado, in Building #5657. The donation center is open daily from 8 a.m. to 5 p.m., except Tuesdays. Physical donations will be accepted until Dec. 10, 2020,  from 8 a.m. to 4 p.m. each day.
The center will be open for residents impacted by the fires until 5 p.m. each day and remain open until Dec. 28, 2020. For detailed donation information visit https://www.larimer.gov/wildfire-resources#tab12
Cash donations are preferred to meet the specific needs of the residents affected by the fire. Cash donations can be sent to United Way Larimer Fire Fund at https://uwaylc.org/.
All physical donations need to be dropped at the donation center. Other responding agencies like fire districts do not accept physical donations now, including food, clothing, and other items.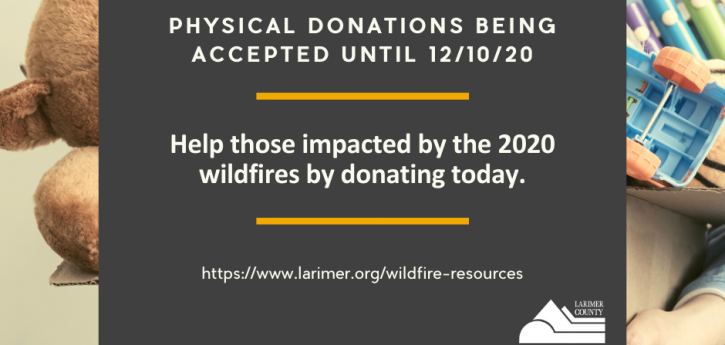 Published on:
Wednesday, December 2, 2020 - 10:09am
Lori Hodges, Director of Emergency Management., [970] 498-7147, hodgeslr@larimer.org
Emergency Management