Community members recognized to celebrate Older Americans Month
Two Larimer County community members were recognized and also received awards for contributing countless hours of volunteer work at a recent ceremony.
The two awards, Outstanding Senior Volunteer, and Outstanding Family Caregiver were given at a ceremony on May 13 by the Larimer County Office on Aging. The annual awards are given to two individuals for their community service to celebrate Older American's Month, which is celebrated each year in May.
The Outstanding Senior Volunteer award was presented to Steve Robinson. During the last six years, Steve has been a Caring Companion volunteer with Volunteers of America, a driver for SAINT, a volunteer at the Food Bank for Larimer County, Meals on Wheels, and the Colorado Welcome Center. He's also a volunteer Ranger Assistant with Larimer County Parks, and volunteers at hospitals through his church.
RSVP/Americorp Seniors report that Steve has contributed more than 2,800 volunteer hours since 2014, which still doesn't capture all his volunteering. It is estimated his actual contribution of volunteer hours is closer to 3,000.
The other award, Outstanding Family Caregiver was presented to Robin Tolbert. Robin is a loving caregiver to her husband Don, who was diagnosed with dementia four years ago. Robin's joy and optimism were evident when she joined the Dementia Together support groups and Memory Cafes. She lights up the screen with her smile, encouraging everyone around her while actively participating in the program, while also lovingly encouraging Don, too.
"This award ceremony is one of the highlights of the year for me. Outstanding citizens like Steve and Robin are the unsung heroes in our community," said Office on Aging Program Manager Katie Stieber. "They advocate for our older community members with ease and recognizing them is a small token of appreciation."
For more information about Older American's Month, Contact Jill Maasch at maaschji@co.larimer.co.us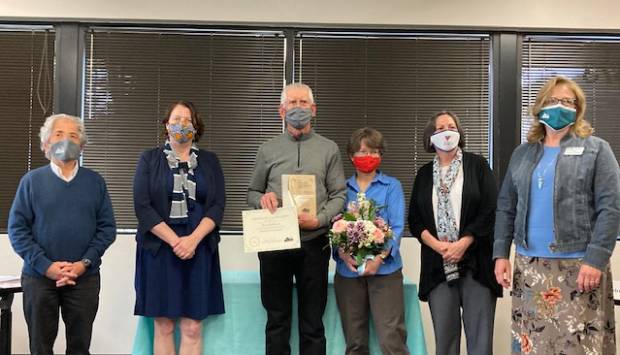 Published on:
Tuesday, May 18, 2021 - 12:51pm
Jill Maasch, 970-498-6360, maaschji@co.larimer.co.us
Human Services