Larimer County begins summer chip seal road work
The Larimer County Road & Bridge Department's 2021 road maintenance and chip seal program are set to start June 21.
When traveling in a work area, travel safely and give our crews a 'brake'.  Please obey the posted speed limits and drive slowly through our work zones, and, if possible use alternative routes. Road maintenance and chip seal work are scheduled to finish during the middle of July.
Chip seal work crews will begin roadwork in the Red Feather Lakes area on County Road #73C, then to CR #73C, CR#67J, CR#67A. When work is completed on these roads, crews will move to CR#74E from Boy Scout Rd. to Gate One of Glacier View.
Crews will move to eastern Larimer County to chip seal roads north of Wellington between CR#64 and CR#82.
Just what is chip seal? Chip seal is a maintenance technique that consists of applying a layer of blended asphalt with gravel added to a paved road surface. Chip seal extends the life of a road during normal use.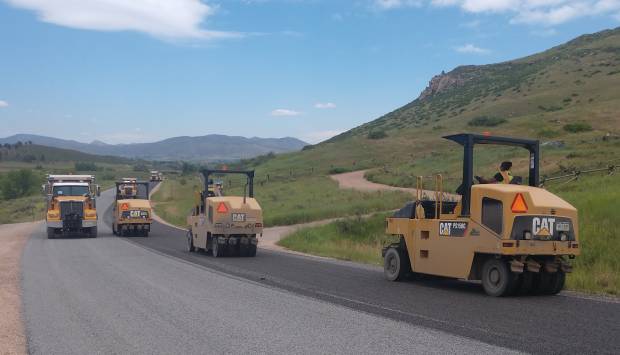 Published on:
Thursday, June 17, 2021 - 1:51pm
Jerry Macklberg, 970-498-5670, macklbjr@co.larimer.co.us
Road and Bridge