SHR
Vehicle Pursuit and Arrest of Robbery Suspect
On June 17, 2021, at approximately 4:10 p.m., a deputy was flagged down by a citizen who reported he was just assaulted at the Burger King / Shell Station at 8214 6th Street in Wellington and the suspect fled in a black Jeep Wrangler.  As other deputies responded to the area, they recognized the suspect and vehicle descriptions as matching information provided by the Longmont Police Department about a recent armed robbery and stolen black Jeep Wrangler.
While deputies were trying to locate the suspect, LCSO dispatch received a report that the suspect drove through a construction area near 3rd Street and Clinton Road at a high rate a speed and nearly hit a man.  The suspect then ran over and damaged exposed water pipes at the construction site before driving into a corn field in the 3700 block of East County Road 58 causing damage to the crops.  Deputies were not yet in the area, and no one was pursuing the suspect.
The suspect was located at East County Road 52 and the Interstate 25 frontage road.  A deputy attempted a traffic stop and a vehicle pursuit started when the suspect sped away.  While fleeing, the suspect swerved toward one unmarked vehicle with emergency lights activated and crossed into oncoming traffic and almost collided head on with a marked patrol vehicle.  Both of those deputies had to swerve to avoid being hit.
The pursuit continued northbound onto Interstate 25 as the suspect drove at speeds up to 90 mph and crossed over the median from the interstate to the frontage road.  The suspect then drove eastbound on East County Road 64 and had trouble maintaining control of the vehicle at high speeds.  All marked patrol vehicles turned off their emergency equipment and stopped pursuing the vehicle near Weld County Road 27.  Investigators in unmarked vehicles continued following the suspect as he slowed down to normal speeds. 
The suspect turned northbound onto Highway 85 and appeared to not know he was being followed by the investigators in unmarked vehicles.  LCSO coordinated with Wyoming Highway Patrol as they approached the border.  After entering Wyoming, troopers successfully deployed road spikes which damaged the Jeep's tires and the vehicle slowed down.  An LCSO investigator performed a Precision Immobilization Technique to stop the Jeep. 
The driver was arrested and identified as Tappan Daniel Smith (10/20/1983) of Wichita, Kansas and was not injured.   Wyoming Highway Patrol took custody of Smith who was later booked into the Laramie County Detention Center on allegations of driving under the influence, possession of controlled substances, possession of stolen property, and traffic violations (Wyoming charges).  A booking photo from Laramie County was not available at the time of this release.
LCSO has secured an arrest warrant for Smith with the following allegations:
Third Degree Assault (class 1 misdemeanor)
Reckless Driving (traffic misdemeanor)
Criminal Mischief (class 2 misdemeanor)
Vehicular Eluding (class 5 felony)
First Degree Assault – Peace Officer x 2 counts (class 3 felony)
LCSO Captain Robert Coleman said, "I was very impressed by the professionalism and decisions made by our patrol deputies, supervisors, and investigators during this tense pursuit of a dangerous felon.  Our dispatchers did an outstanding job ensuring seamless radio communications between multiple agencies that certainly helped bring this very dynamic incident to a successful conclusion."
Special thanks to the Weld County Sheriff's Office and Wyoming Highway Patrol for their assistance and cooperation.
The charges are merely an accusation and the defendant is presumed innocent until, and unless, proven guilty.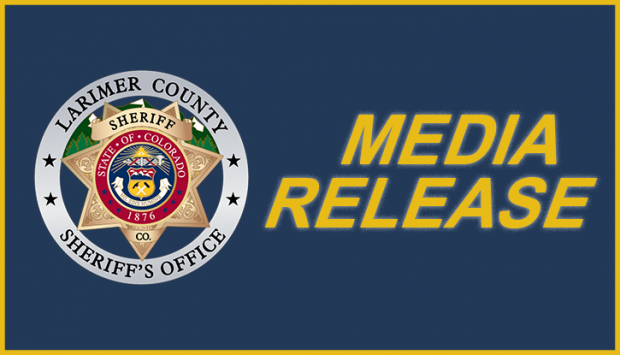 Sheriff