Boys & Girls Clubs of Larimer County provides mental health support to help young people meet their potential
In 2019, Boys & Girls Clubs of Larimer County (BGCLC) received Behavioral Health Services (BHS) grant funding to support the Raising Awareness of Personal Power program.
Raising Awareness of Personal Power (RAPP) provides suicide prevention education and tools to help identify and navigate behavioral health challenges to the vulnerable and at-risk youth served through the Clubs. Almost 200 youth completed the program equipped with new social and emotional learning skills and the ability to identify suicidal behaviors in themselves and others.
BGCLC was ready to build on the success of the program but last year brought unique challenges due to fire evacuations and school/daycare closures related to COVID. The Club locations had to adapt quickly and expand services. 
In 2020, Clubs across Larimer County were open 1080 more hours than any other school year before to meet the critical needs of families. BGCLC opened 7 new locations, provided food distribution sites and emergency childcare for essential workers, completed a successful summer program, and offered remote learning support for students during school hours.
The mental and behavioral health needs of the youth attending the Clubs grew exponentially as they tried to navigate the uncertainty and challenges of the pandemic. Again, BGCLC quickly adapted and expanded services to meet these additional needs.
"It was clear that the mental health needs of young people were reaching an all-time high. In order to adequately serve youth in Larimer County, we quickly realized that we needed to embed professional mental health services into our organization at no additional cost or barrier to families," said Kaycee Headrick, CEO of Boys & Girls Clubs of Larimer County.
BGCLC hired its first Licensed Clinical Social Worker to provide mental health counseling and support for Club children for no additional costs to families. Over the year, the Social Worker provided almost 80 counseling sessions and trained staff on mental health interventions.
According to Headrick, "Having a Licensed Clinical Social Worker on staff has been a game-changer. Kids and families can now get professional services in-house without having to pay additional fees, coordinate transportation or jump through additional paperwork hoops. In addition, this position has been an asset to our professional development. This position leads regular training and coaching sessions on trauma-informed care and best practices for working with youth."
BGCLC serves over 3000 youth ages 6-18 each year through 16 clubs across Larimer County with a mission of enabling "all young people, especially those who need us most, to reach their full potential as productive, caring, responsible citizens."
As a part of its services, BGCLC provides academic programming, gym/athletics, technology lab, visual/performing arts, workforce readiness, and more for tweens and teens.
To learn more about Boys & Girls Clubs of Larimer County visit https://www.begreatlarimer.org/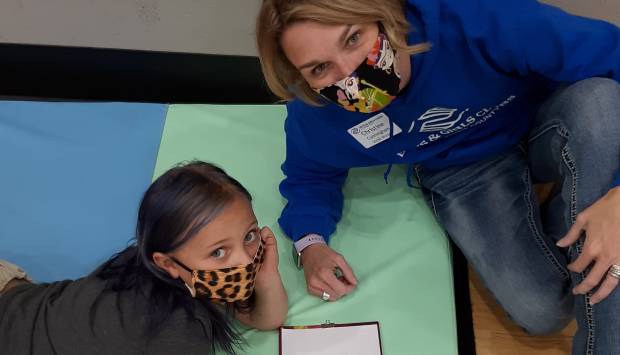 Published on:
Tuesday, July 13, 2021 - 1:54pm
Jennifer Wolfe-Kimbell
Communications & Media Specialist
970-498-7127
wolfekje@larimer.org
Behavioral Health