Learning continues with the Book Box Project
The volume of community service performed year-round by court-ordered community service clients in Larimer County to benefit our community and themselves is remarkable. Then in March 2020 COVID-19 hit and most of it stopped.
Much of the volunteer community services to tax-supported and non-profit entities were curtailed to comply with restrictions on social contact, yet the need for services to our community was at its greatest. There had to be another way to help.
Larimer County Community Justice Alternatives devised a work-around to the restrictions by reaching out to local public schools whose teachers were struggling to keep teenagers learning during the pandemic and asked what they needed the most. The things that stood out were materials used for a whole class but now needed to be duplicated for individual learning at home. Teachers were overwhelmingly in support of ways to keep them tangibly engaged and support them other than in front of an online screen.
The clients developed ways to make some of those materials and include them in a Teen Book Box for schools to support online remote learning. Classroom materials like fraction strips, geo-blocks, dice, sight word flashcards, and other teaching materials were assembled into individual "Book Boxes" which also include a book, drink mix, writing utensils, a journal, stickers, bookmarks, and four craft-type projects. The boxes are labeled by the genre of the book inside --- fantasy or adventure. The boxes were then wrapped up like a gift.
They also modified the book boxes as a preschool graduation gift for the literacy coaching programs available through Americorp, which has several locations throughout Larimer County. 140 of those boxes were made tailored to the age of each child.
The boxes were used differently by some schools, Blevins Middle School uses the boxes to reach out to the students struggling with a class; Polaris Exploratory School used the boxes as a graduation gift for all sixth graders to celebrate the strangest school year ever, while Lincoln Middle School opted to use the book boxes for the Read-Act Program. Some of the book boxes were made to accommodate bi-lingual needs for populations with English as a second language.
The Poudre Library District was also able to take advantage of the program using the book boxes for their Summer Reading program targeted for their middle-school and teen program. The library also received 1,000 back-to-school kits for their patrons who were struggling financially from the pandemic, containing pens, pencils, crayons, markers, a glue stick, and other essentials again wrapped up like a gift.
The innovative approach the clients took to make these gifts also helped them give back to their community while providing something valuable and desperately needed during these challenging times.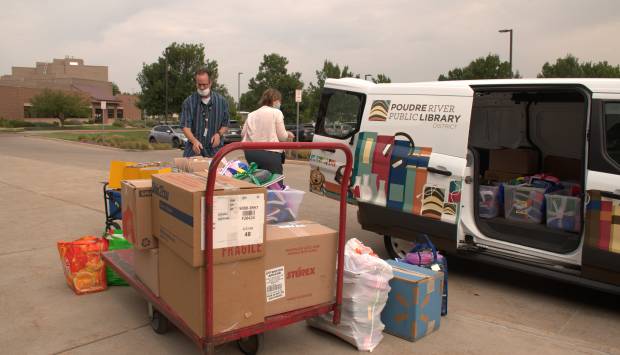 Published on:
Thursday, August 19, 2021 - 2:04pm
Community Justice Alternatives