Nominations closed for 44th Annual Conrad Ball Award
Nominations are closed for the 44th Annual Conrad Ball award as of June 10. The submitted nominations are now under review by the Larimer County Community Corrections Advisory Board.
The award is named after the late honorable 8th Judicial District Judge Conrad L. Ball, who made significant advancements in the criminal justice system. In his honor, each year nominations are accepted to recognize an individual for their significant contributions to the criminal justice system.
For updated information regarding the selected Conrad Ball Award recipient and banquet, please visit: https://www.larimer.org/cja/comcor/conrad-ball-award
Please contact Aubrey Clevenger with any questions:
Aubrey Clevenger, Larimer County Community Corrections
2255 Midpoint Drive, Fort Collins, Colorado 80525, [970] 498-7512.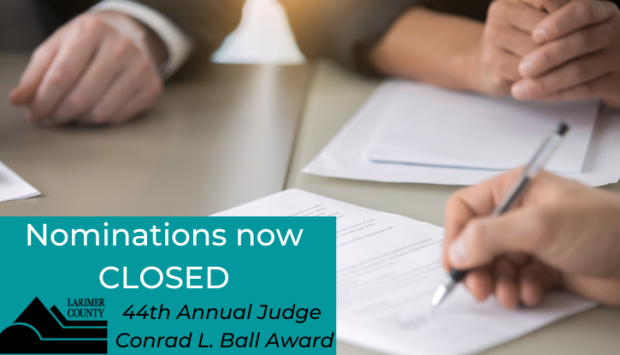 Published on:
Friday, June 17, 2022 - 10:57am
Aubrey Clevenger, [970] 498-7512, AClevenger@larimer.org
Community Justice Alternatives