Reduction in SNAP benefits, beginning in March 2023
During the COVID-19 pandemic, U.S. Congress authorized emergency allotments to help meet food needs. The emergency allotments were temporary and will end in March 2023, decreasing the total amount of benefits each month for SNAP households in Colorado.
This change can have a significant impact on many SNAP families. To help reduce the impact on households, families can follow these suggestions:
If you or someone you know needs help with food resources, you can visit https://www.foodpantries.org/st/colorado to find the closest food pantry to you. 
SNAP participants can call their local county human services office for questions about their benefits. 
For more information, please visit https://cdhs.colorado.gov/snap 
Disclaimer: States and counties are not able to extend emergency benefits after February 2023.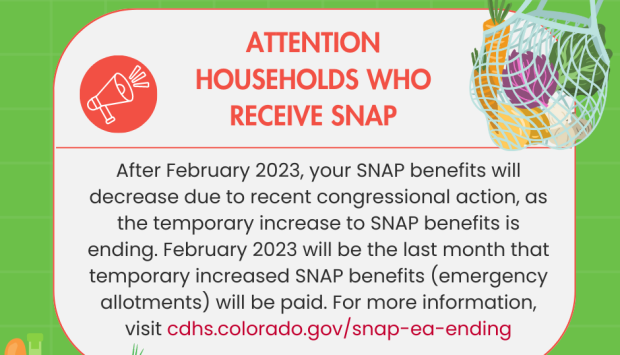 Human Services