Small Grants for Community Partnering recipients announced
Primary tabs
LOVELAND – In its 25th grant cycle, the Larimer County Department of Natural Resources is proud to announce $25,066 in grants to support ten community and neighborhood projects that help educate and connect people to the land. The 2023 awards will support a wide range of organizations spanning across Larimer County through the department's Small Grants for Community Partnering program. To-date, Larimer County has awarded $395,421 for 232 community and neighborhood projects.

Larimer County Natural Resources is honored to celebrate and recognize all of the exemplary projects awarded by the Small Grants Program over the past 25 years through a commemorative website created in partnership with Colorado State University's Geospatial Centroid.

The 2023 grantees, projects, amounts and locations include:
21st Century Gardens, Supplies for seed starting, $850, Fort Collins
Colorado State University, Native wildflower and pollinator research at Eagle's Nest Open Space, $2,215, Livermore
Estes Valley Watershed Coalition, Wandering Wildlife Society programs and talks, $1,680, Estes Valley
Homeward Alliance, Murphy Center Garden Beautification and Accessibility Project, $674, Fort Collins
Ivy Stockwell Elementary PTO, Community education and engagement, Phase VI, Outdoor Classroom Project, $3,000, Berthoud
No Barriers USA, Fire mitigation project, $2,970, Livermore
Northern Colorado Wildlife Center, Increasing capacity of NCWC's newly acquired Environmental Education Classroom, $3,500, Northern Colorado
Red Feather Lakes Community Library, 'Connecting Community Through Nature' workshops, $3,500, Red Feather Lakes
Sproutin' Up, Solar installation project, $3,200, Fort Collins
Wolverine Farm Publick House, Poudre River Pollinator project, $3,477, Fort Collins
Small Grants for Community Partnering is an initiative of Larimer County to disperse a portion of Help Preserve Open Spaces sales tax dollars for projects that:
Enhance natural areas
Create public linkages with existing open lands and parks
Offer opportunities for environmental education, outdoor recreation or nature interpretation
Provide opportunities for people to connect with the land through agriculture or increased access to open spaces and natural areas
Develop new research on Larimer County open spaces
For more information about the program, contact Jennifer Almstead, Fund Development & Projects Specialist, at (970) 619-4569 or jalmstead@larimer.org, or visit larimer.org/small-grants.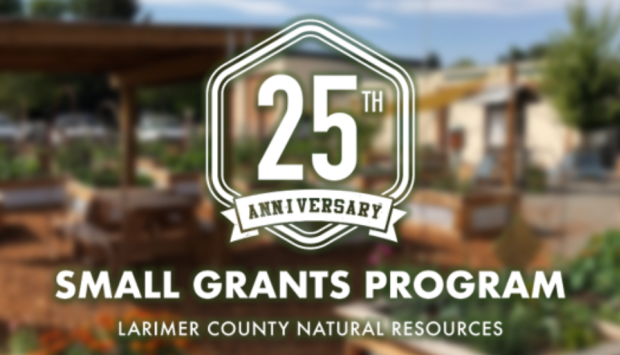 Published on:
Friday, February 10, 2023 - 11:42am
Media Contact:
Jennifer Almstead
Fund Development and Projects Specialist
Larimer County Natural Resources
(970) 619-4569
Natural Resources