Bridges 101
The Colorado Department of Transportation categorizes structures as major or minor depending on the span length as measured down the centerline of the road. Major structures are those structures that are over 20' in length and minor structure are those structures that are between 4' and 20' in length. 
Maintenance and repair of these structures includes items such as scour protection to ensure stability of the structure and protect them from erosion at the footings; substructure repairs including abutments and piers; super structure repairs including girders/stringers, decks and curbs; ad bridge rail/guard rail. 
All major structures are inspected on a 2-year cycle and all minor structures are inspected on a 4-year cycle. Maintenance items identified during these inspections are categorized and prioritized and then scheduled to be performed by County crews or contractors.
Private bridges and culverts are not maintained by Larimer County.
Bridge Weight Limits
The Engineering Department is responsible for ensuring that bridges incapable of supporting legal highway loads are properly posted. All Larimer County bridges are inspected every two years. The following table details the bridges which are posted as of February, 2018.
BRIDGE POSTING PROGRAM INDEX

Map
No.
Road
No.
Bridge No.
Load
(Tons)
I
II
III
Feature Intersected
1
17
LR17-0.0-70
25
 
 
 
North Poudre Canal
2
25E
LR25E-1.3-52E
25
 
 
 
Pleasant Valley & Lake Canal
3
43H
LR43H-0.1-45B
 
15
24
24
Little Thompson River
4
45E
LR45E-1.0-S287
 
 21
 32
 33
Dale Creek Tributary
5
54E
LR54E-0.7-27E
25
 
 
 
Pleasant Valley & Lake Canal
6
56
LR56-1.1-I25
25
 
 
 
Larimer County Canal
7
63E
LR63E-11.8-44H
*
*
*
*
Cache Le Poudre River
8
80C
LR80C-2.6-59
25
 
 
 
North Fork Cache La Poudre River
9
103
LR103-6.0-S14
 
16
25
26
Laramie River
10
103
LR103-6.8-S14
 
25
38
40
Laramie-Poudre Canal
11
16
16-0.10-21
 
22
34
34
South Side Ditch
12
--
LRCROWN PTDR1
 
10
15
16
Cache La Poudre River
*1-Lane Bridge for All Vehicles Over 27 Tons.
TOTAL NUMBER OF POSTED BRIDGES IN THIS LIST = 12
DATE LAST UPDATED:    February, 2018
Larimer County's bridge posting program seeks to make known the safe load carrying capacity of structures which cannot presently withstand the maximum legal load permitted on the highway. The sign restrictions meet federal bridge inspection standards and requirements. To minimize inconvenience and difficulty, truckers are urged to consult a map and this table in planning or predetermining available routes for a particular vehicle and load.
NOTE: This restricted bridge list is not static. As bridges are replaced or rehabilitated, the load limit restrictions may be removed or changed. Also, as existing bridges deteriorate or are damaged, load limit restrictions may have to be placed upon them. It is imperative that all users of this table make certain that they have the latest version. Larimer County will make every effort to keep users informed of any changes but cannot accept responsibility or liability for any user not utilizing the latest version of this document. In all cases, with the possible exception of gross load posting as described below, the weight limit signs posted at Larimer County bridges shall take precedence over this table.
If the 'gross load' field shows a value, it indicates that the bridge is posted for a gross load only. If the 'truck type' fields also show values, it indicates that trucks over the gross load amount may safely cross the structure provided that the truck weight does not exceed the value given for the truck's axle configuration for Type II and Type III vehicles.
Additional information about Colorado legal vehicle dimensions and weight limits.
Bridge Weight Limit Sign Examples
Bridge Weight Limit Sign Examples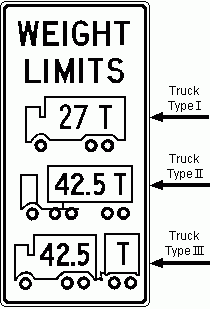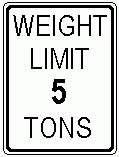 Truck Type I
2-Axle, Single Unit Truck
3-Axle, Single Unit Truck
4-Axle, Single Unit Truck
Truck Type II
2-Axle Tractor, 1-Axle Semi-Trailer
2-Axle Tractor, 2-Axle Semi-Trailer
3-Axle Tractor, 1-Axle Semi-Trailer
3-Axle Tractor, 2-Axle Semi-Trailer
3-Axle Tractor, 3-Axle Semi-Trailer
Truck Type III
2-Axle Truck, 1-Axle Balanced Trailer
3-Axle Truck, 1-Axle Balanced Trailer
2-Axle Truck, 2-Axle Full Trailer
2-Axle Truck, 3-Axle Full Trailer
3-Axle Truck, 2-Axle Full Trailer
3-Axle Truck, 3-Axle Full Trailer
3-Axle Truck, 2-Axle Trailer, 2-Axle Trailer
2-Axle Tractor, 1-Axle Semi-Trailer, 2-Axle Full Trailer
2-Axle Tractor, 2-Axle Semi-Trailer, 2-Axle Full Trailer
3-Axle Tractor, 1-Axle Semi-Trailer, 2-Axle Full Trailer
3-Axle Tractor, 2-Axle Semi-Trailer, 2-Axle Full Trailer
3-Axle Tractor, 2-Axle Semi-Trailer, 3-Axle Full Trailer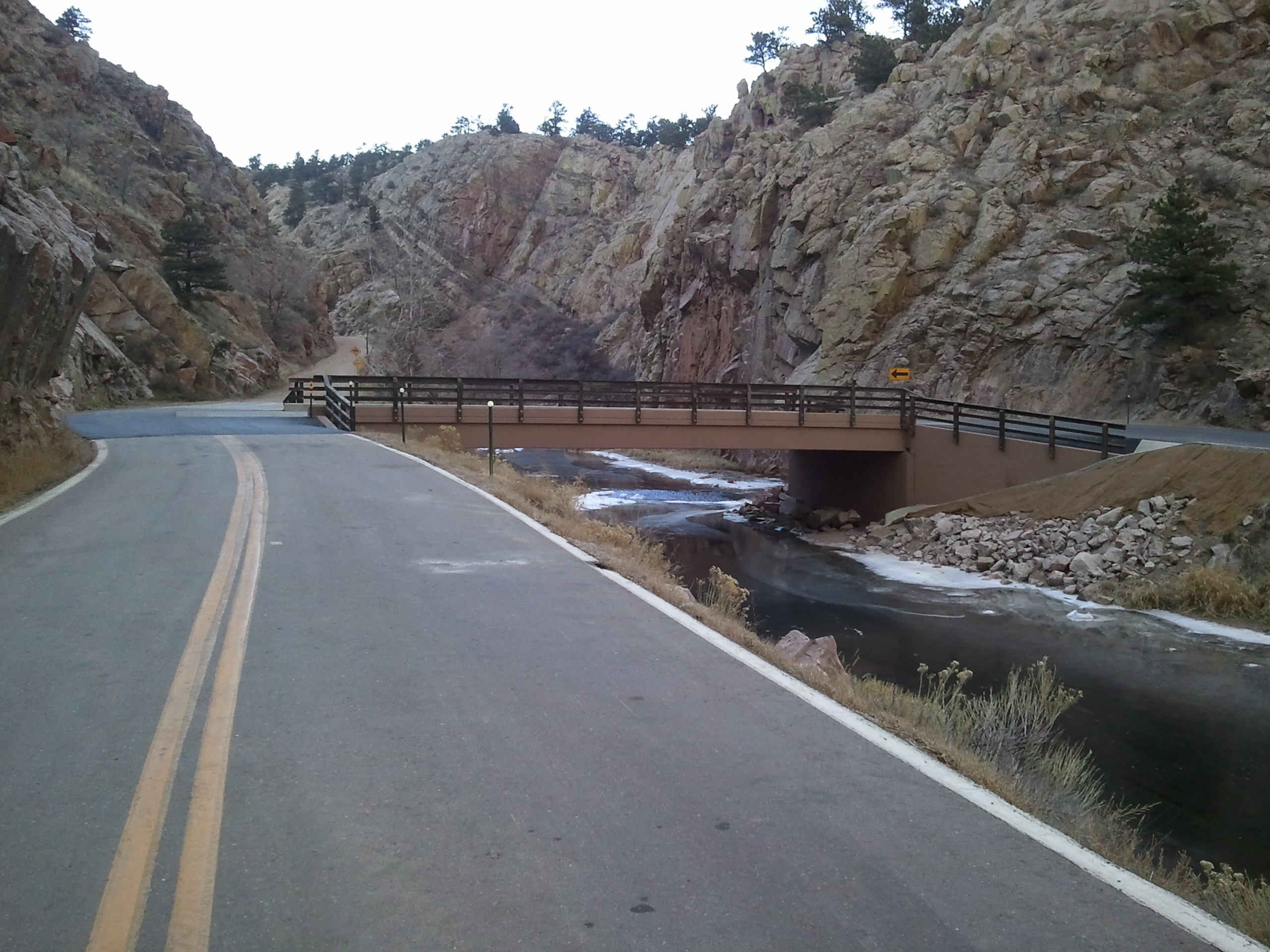 Bridges
Attn Bridges
Larimer County Engineering Department
200 West Oak Street, Suite 3000
P.O. Box 1190
Fort Collins, CO 80522-1190
(970) 498-5739
Email