2022 Larimer OEM Year In Review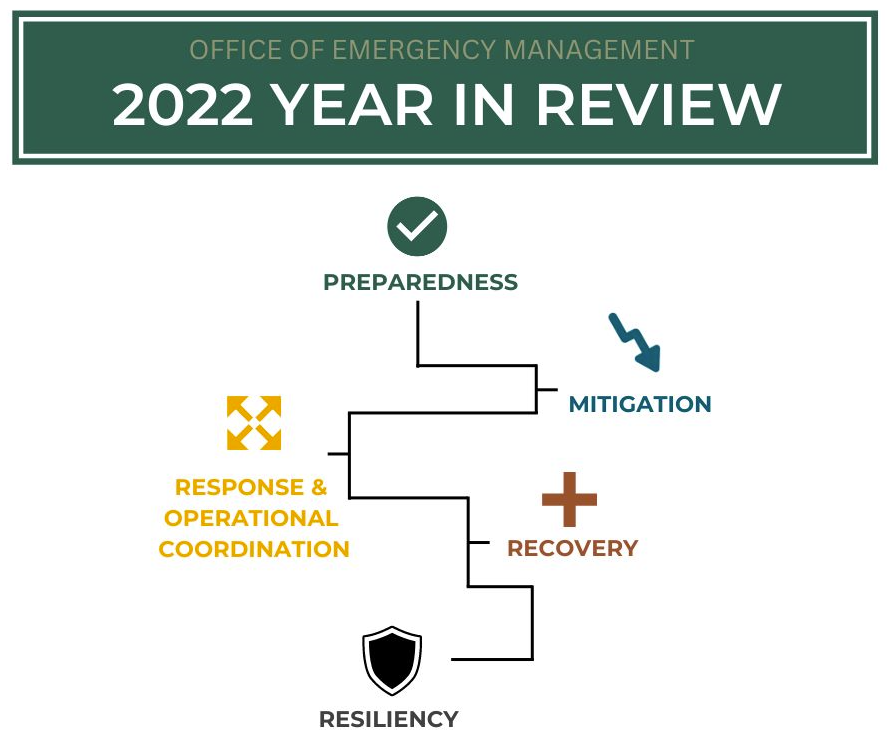 The Larimer County Office of Emergency Management coordinates with partner agencies to better serve and support the community in all phases of disasters while also working to build resiliency in the county.
Emergency Management strives to do the most good for those that need it most by working behind the scenes and, meeting with partners throughout the Larimer County region to build programs and services that meet county needs. Below are major accomplishments and projects from 2022.
By the Numbers
4 Risk Vulnerability Assessments 
6 Incidents 
18 Community Hubs 
24 Community Outreach Events 
12 Emergency Preparedness 101 Videos 
12 Prepreparedness Presentations & Workshops 
Preparedness
Animal Response Plan 
The Animal Response Plan was signed in 2022. The purpose of this plan is to protect people, animals, and property during an emergency situation by ensuring the effective evacuation and care of both small and large animals in Larimer County.
Reunification Plan 
The Larimer County Reunification Plan was developed in 2022. Reunification, a critical Mass Care function, provides human and technological resources to reconnect individuals as quickly as possible following a disaster or incident.
Fairs & Events 
Larimer OEM coordinated with partners across Larimer County and Weld County to bring back the previously known "Expo" and presented the Family Preparedness & Safety Fair at the Ranch in Loveland in 2022. The community was invited to take part in learning safety tips from first responders and emergency personnel, attend safety vendor booths, tour emergency vehicles, attend American Red Cross Safety classes, enter a giveaway of prizes, and participate in kid's activities such as pumpkin paintings.
Overall, in 2022 Larimer OEM participated in 24 community events to promote emergency preparedness and awareness.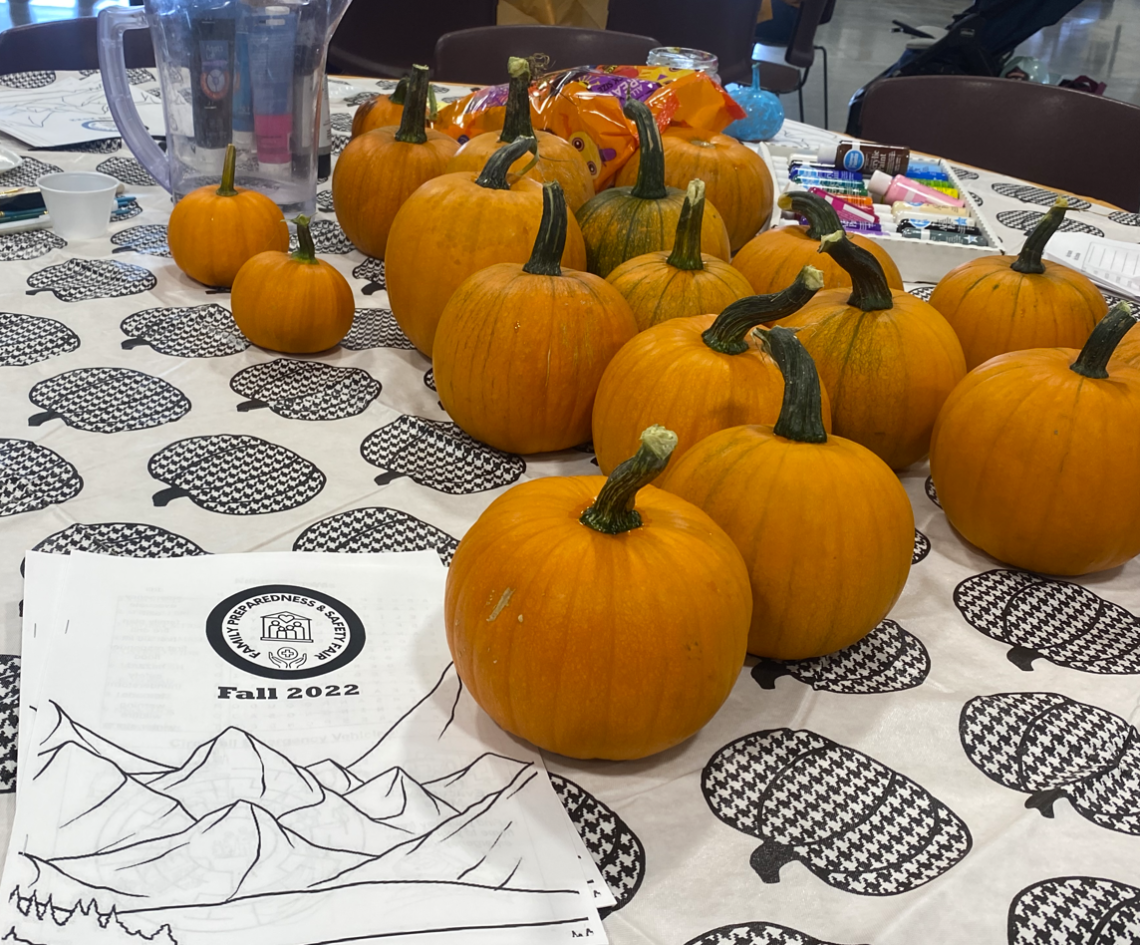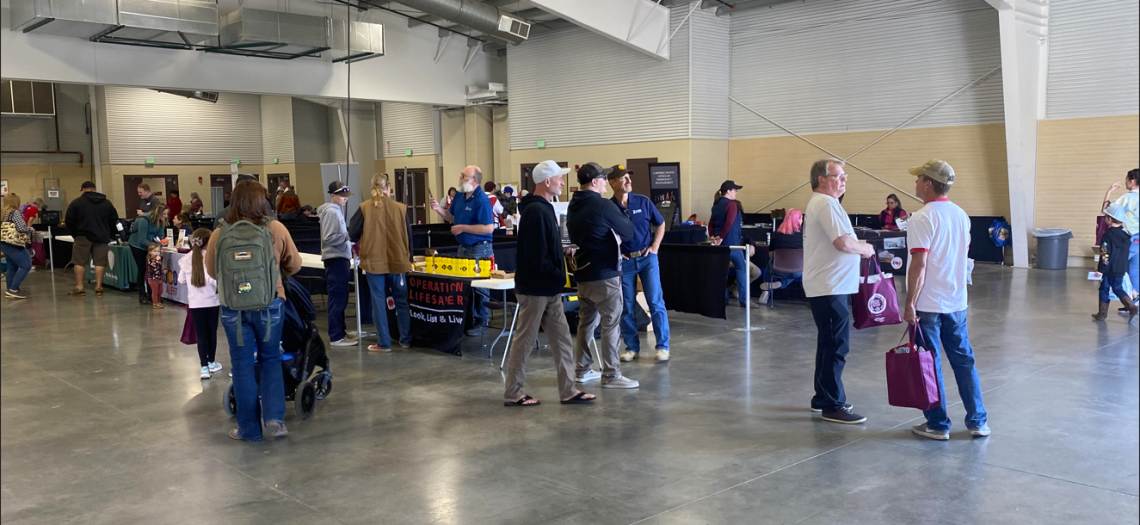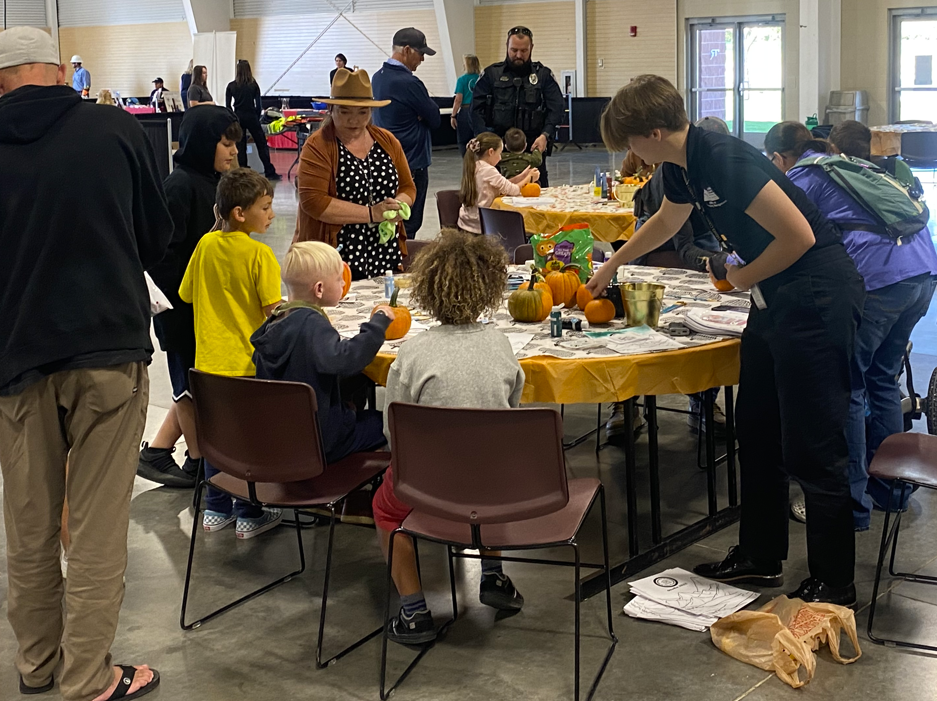 Larimer Fire Agency Grant Program 
Larimer County provided $30,000 through the Larimer Fire Agency Grant Program to local fire departments and districts to assist with grant matching needs and to provide support for local fire programs. 2022 Recipients:
Big Elk Meadows Volunteer Fire Department
Glacier View Fire Protection District
Glen Haven Volunteer Fire Department
Loveland Fire Rescue Authority
Livermore Fire Protection District
Pinewood Springs Fire Protection District
Poudre Canyon Fire Protection District
Mitigation
Community Mitigation Grant Program 
In 2022 Larimer County created the Community Mitigation Grant Pilot Program in an effort to reduce barriers to residents and empower community-led mitigation projects in Larimer County. $50,000 allocated to fund mitigation projects in 2022 in Larimer County
The following 8 communities were awarded up to $10,000:
Crystal Mountain
Mary's Lake (Estes Valley Watershed Coalition)
Glacier View Meadows R&R HOA
Glen Haven Association
Horsetooth Lakes Estates HOA
Lazy D Corporation
Red Feather Highlands
The Retreat Landowners Association

Hazard Mitigation Grant program (HMGP)
The Federal Emergency Management Agency (FEMA) approved $15,000 in funding for Stage 1 of the Crystal Lakes Fuels Mitigation Project.
FEMA approved $360,000 for the Larimer County Climate Smart and Sustainability Implementation Plan.
FEMA approved $117,000 for the Larimer County Water Master Plan, under the Community Development Department.
Colorado Strategic Wildfire Action Program (COSWAP) 
The Colorado Department of Natural Resources awarded $1,000,000 as part of the Colorado Strategic Wildfire Action Program for the Pole Hill/Waltonia Fuels Reduction project for cross- boundary landscape mitigation work. Partners involved in the project are:
The Larimer Conservation District
Big Thompson Watershed Coalition
Larimer County Emergency Services
Larimer County Office of Emergency Management
Response & Operational Coordination
July 15, 2022 Flooding 
On July 15, 2022, the Larimer Emergency Operations Center was activated in response to the Flash Flooding and Debris Flow in the Retreat, Crystal Park, Crystal Mountain, and County Road 44H. The area received upwards of 2 to 2.25 inches of rain, which was at least a 50-year rainfall event. A total of 1 home was destroyed, 1 outbuilding was damaged, and 5 additional homes had minor damages. Two people perished in the debris flow on Sheep Creek.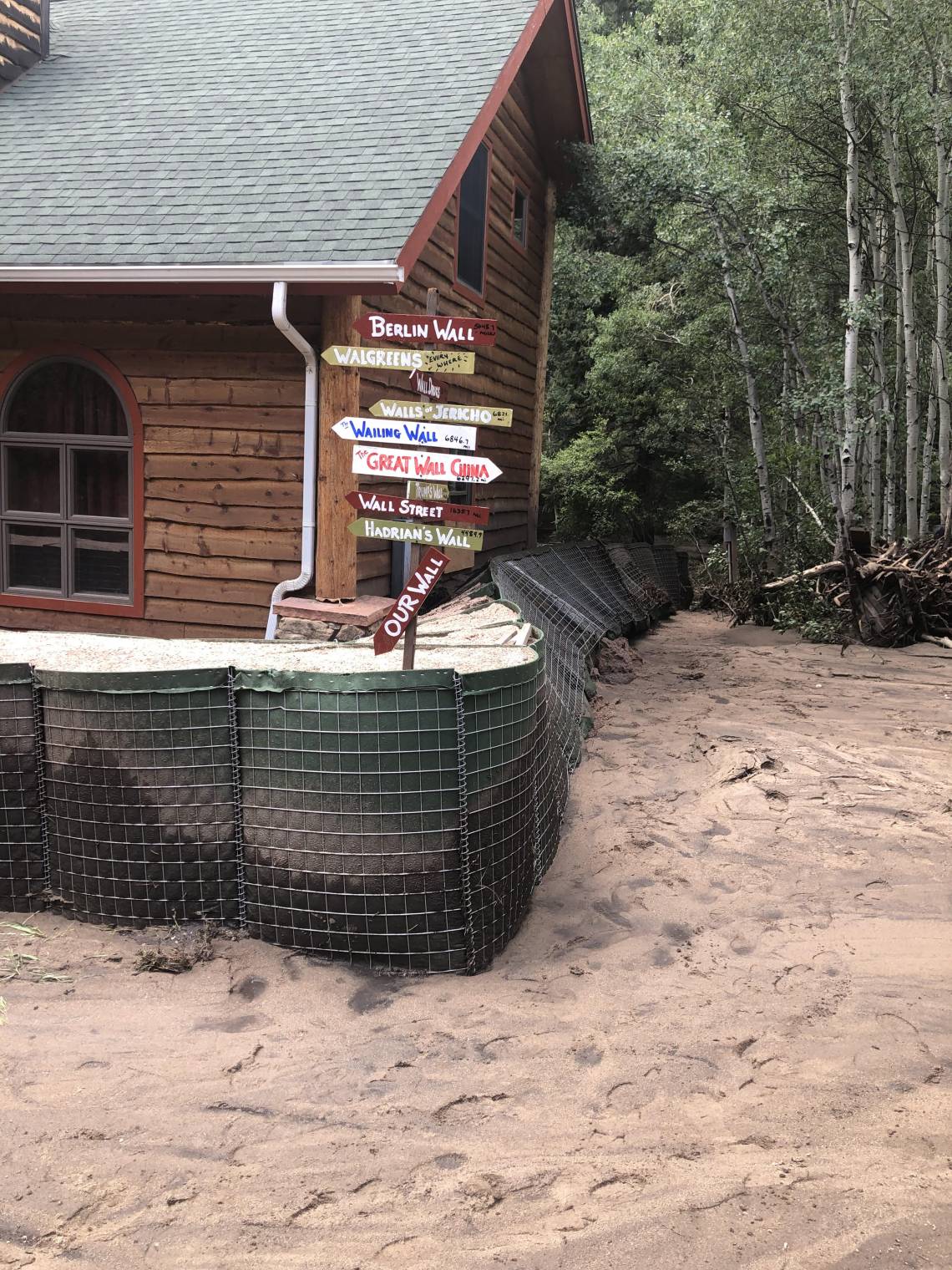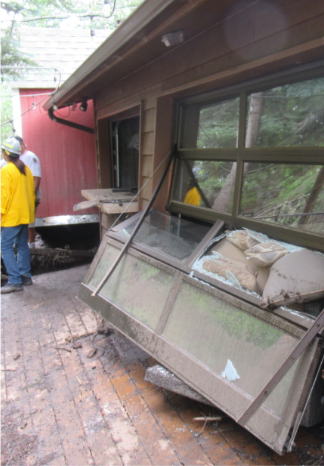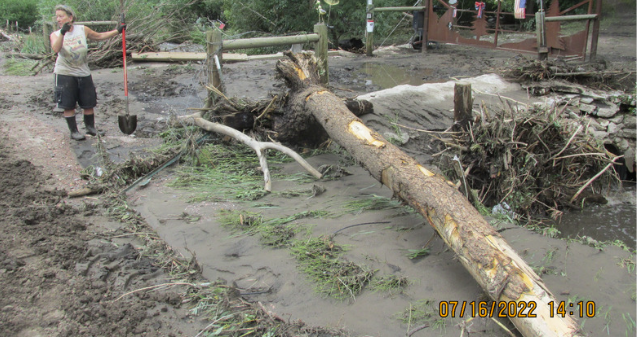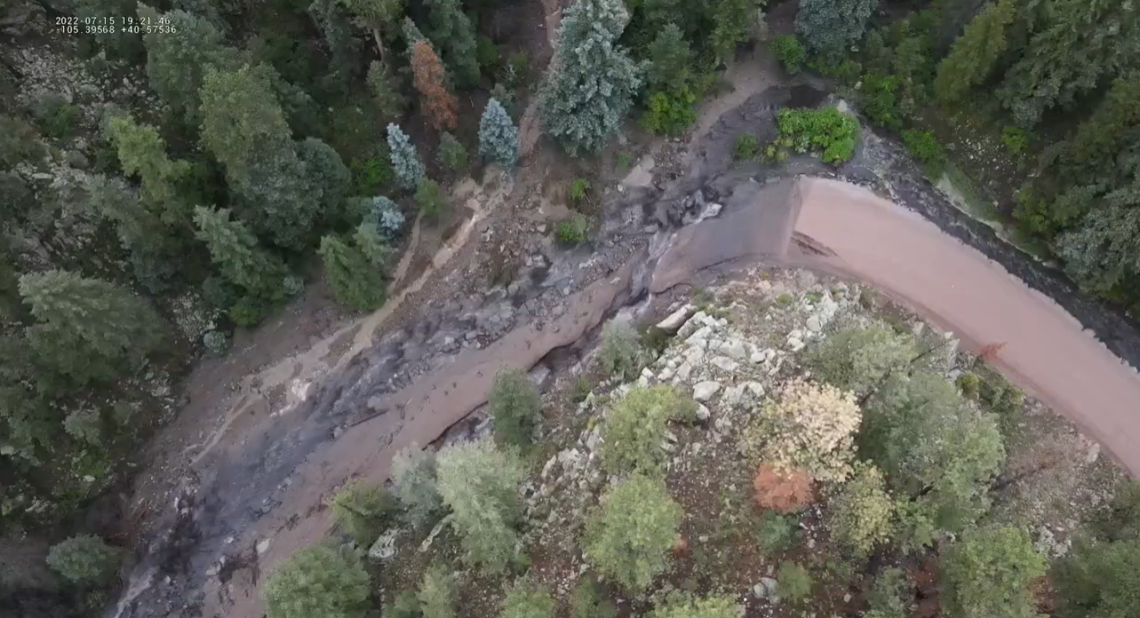 Power outage Emergency Operations Center Exercise Series 
Four exercises were held in 2022 at the Emergency Operations Center based on a long-term power outage scenario. Approximately 125 people attended each exercise including governmental, non-governmental, and private sector partners.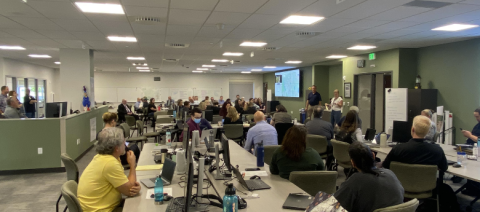 Cyber Security Analysis 
The National Cybersecurity Center (NCC) also provided Larimer County a cyber security analysis to more accurately identify the operational impacts of cyber attacks & therefore prioritize investments for critical functions.
Recovery
Wildfire Recovery Collaborative 
In November 2022 the Larimer County Board of County Commissioners recognized the Wildfire Recovery Collaborative on the partnership and work that has helped recover from the Cameron Peak Fire and post-fire flooding. Recovery efforts from the FEMA major disaster declaration amounted to aerial mulching, point-mitigation, reforestation, suppression repairs, hazard tree removal, risk assessments, damage assessments, information dissemination, community outreach, and preparedness activities. Larimer County is truly lucky to have phenomenal partners who all share a role in the Wildfire Recovery Collaborative.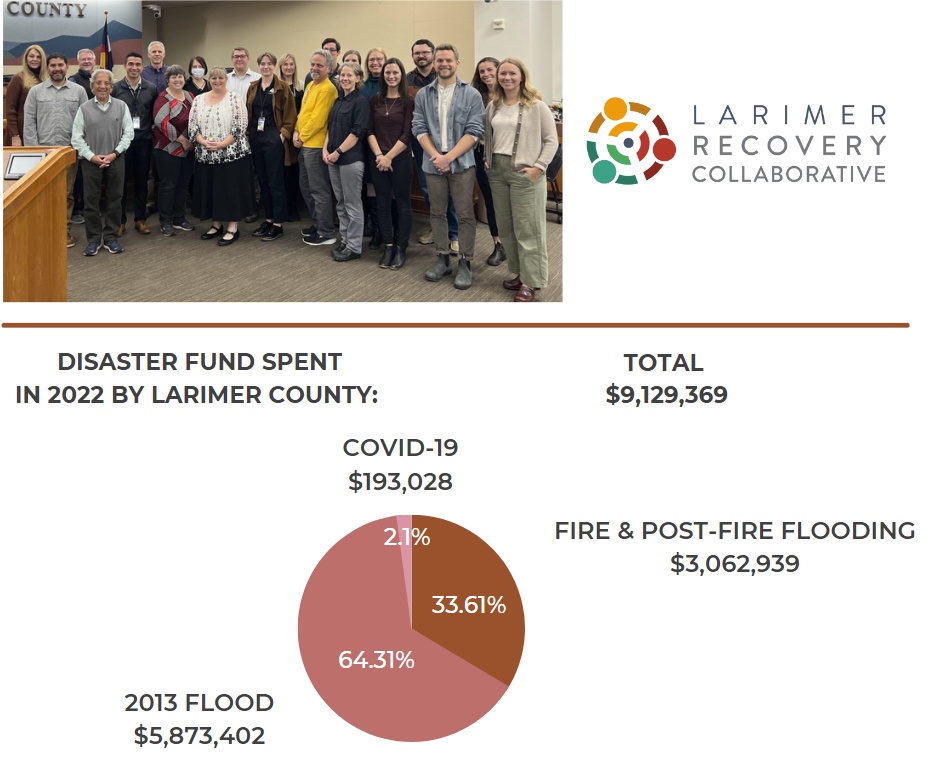 Resiliency
Larimer OEM Commmunity Resilience Assessment 
In 2022, Larimer OEM conducted a Community Resilience Survey to understand the level of countywide community resilience. Larimer OEM is dedicated to increasing social capital and community preparedness countywide for greater resilience and better disaster outcomes. Below are a few key findings from the survey:
91% of respondents feel comfortable and/or safe reaching out for emergency assistance when needed.
9.2% of respondents indicated they have NO people in their neighborhood they trust for support in emergency planning.
66.3% of respondents DO NOT believe there are adequate systems in place for people with disabilities or for those who are unable to self-evacuate in an emergency situation.
Most people felt they were prepared but also noted they did not have a preparedness plan.
Connecting Our Communities Micro-Grant 
The Connecting Our Communities Micro-Grant encourages more social connection and increased community resilience throughout Larimer County. Larimer OEM awarded Red Feather Lakes Property Owners Association and Relational Life with a micro-grant to help increase social connectivity and resilience in their local communities. OEM is actively working to increase engagement around this micro-grant to help more communities.
Larimer Connects CommunitY Hubs 
Larimer Connects Community Hubs are physical locations that build community resilience through information dissemination and resource sharing. In 2022 we actively engaged with communities throughout Larimer County to strengthen this effort. There are now 18 community hubs throughout unincorporated Larimer County.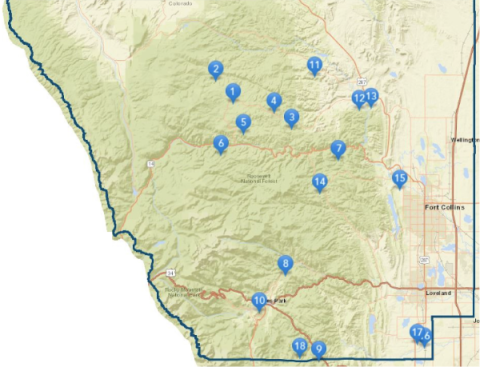 2023 Goals
Larimer OEM will implement these exercises and programs to meet established goals for 2023.
Mass Casualty Incident Exercise 
Larimer OEM will facilitate and participate in a Mass Casualty Incident Exercise involving appropriate partners throughout Larimer County to coordinate operations and considerations necessary in response to the Mass Casualty Incident Plan Final Outcome.
Reunification Exercise 
Larimer OEM will exercise the Reunification Plan with critical Mass Care partners that provide human and technological resources to reconnect individuals as quickly as possible following a disaster or incident.
Community Evacuation Drill 
A Community Evacuation Drill will be conducted for a southern Larimer County community in which local community members will practice safely evacuating their homes and reinforce actions to be taken in the event of an emergency in their area.
Community Education Program 
Larimer OEM will be implementing the Community Education Program in 2023 to provide training and information to the public in educating and empowering the community to face disasters and strengthen community resilience in Larimer County. Modules in the Community Education Program consist of Foundation of Resilience & Prepredness 101, Disaster 101, Civic Partcipation, Community Building, Leadership, and Tying it all together.
As part of the first module, Resilience & Preparedness 101, a How To Prepare For Everything Workshop will be available through Larimer County in which the public can learn how to prepare for disruptions instead of disasters, prepare together, strengthen relationships with neighbors, and work on a personalized emergency kit list.
Wildfire Partners Program 
Larimer OEM will be working with Larimer County Sheriff's Office Emergency Services to develop a Wildfire Partners Program. The program will work directly with property owners in the Wildland Urban Interface (WUI) to advise them of how to best mitigate their properties from the threat of Wildfire. During 2023, the exact details of the program will be worked out, so that the program can be implemented in 2024.
Accolades
Larimer OEM received two Achievement Awards by the National Association of Counties (NACo) in 2022
The Cameron Peak Fire Recovery Dashboard won recognition in the Risk and Emergency Management category.
The COVID-19 Cameron Peak Fire Recovery Dashboard won the Best in Category for Risk and Emergency Management.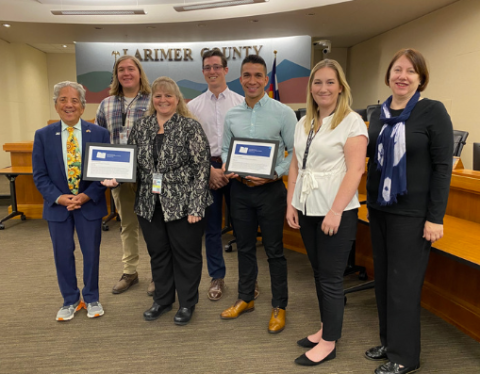 Appointment to FEMA's National Advisory Council (NAC)
In November of 2022, Larimer OEM Director, Lori Hodges was appointed to FEMA's National Advisory Council (NAC) to act as secretary for a three-year term.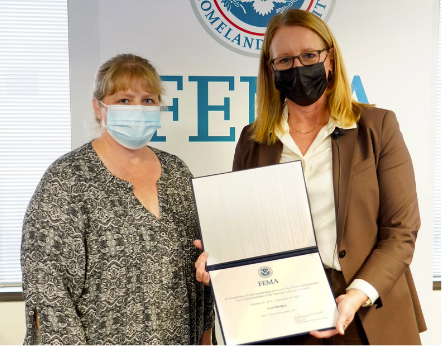 Lori Hodges named Colorado Emergency Management Association (CEMA) Vice President
CEMA provides representation to many state-wide committees, working groups, and emergency management programs around the state of Colorado.