About the program
The Native Plant Master Program in Larimer County educates the public about native plants. This work is important to foster:
Stewardship
Sustainable landscaping
Management of weeds that threaten native ecosystems.
Participants of this award-winning program learn in the field. This includes local open space parks and natural areas in Larimer County using living examples of Colorado flora.  
In 2021, Native Plant Master Volunteers in Larimer County:
Reached 4,774 adults & 41 youth through educational contacts
Volunteered 638 Hours
What is means to be a Native Plant Master
Native Plant Masters know the importance of sustainable landscapes and controlling invasive weeds. 
Courses focus on:
Identification
Ecological relationships
Human use of plants
How to use a botanical key, including learning scientific names and plant families.  
You will:
Learn fascinating facts and uses of some of Colorado's plants

Sharpen your plant ID skills

Discover how noxious weeds threaten native plants and wildlife

Interact with others who share your love of Colorado flora
Descriptive text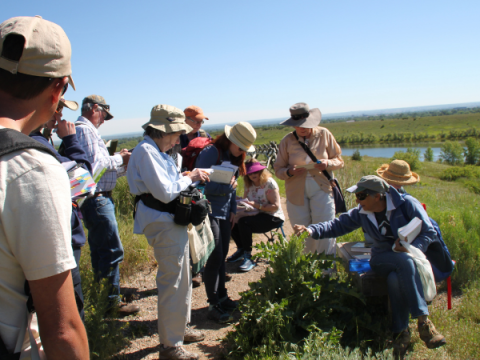 How to be a Native Plant Master
You must first apply.  Applications for 2022 are closed. Contact Karen Crumbaker at kcrumbaker@larimer.org to be added to the NPM listserv to be notified when applications are being accepted.
Native Plant Master Video
---
Colorado State University Extension is an equal opportunity provider. Colorado State University does not discriminate on the basis of disability and is committed to providing reasonable accommodations. CSU's Office of Engagement and Extension ensures meaningful access and equal opportunities to participate to individuals whose first language is not English. Colorado State University Extension es un proveedor que ofrece igualdad de oportunidades.
Colorado State University no discrimina por motivos de discapacidad y se compromete a proporcionar adaptaciones razonables. Office of Engagement and Extension de CSU garantiza acceso significativo e igualdad de oportunidades para participar a las personas quienes su primer idioma no es el inglés.
Col.st/ll0t3
Larimer County Office of Colorado State University Extension
ADDRESS
1525 Blue Spruce Dr.
Fort Collins, CO 80524-2004
Phone: (970) 498-6000 | Fax: (970) 498-6025
Office Hours
7:30 a.m. - 4:30 p.m.
Monday - Friday
Please note:
Our office hours are 8 a.m. - 4:30 p.m. the month of December
Our office will be closed Tuesday, December 13th for a staff meeting
Our office follows the Larimer County Holiday Calendar for office closures.