4-H at The Larimer County Fair
Many Larimer County 4-H Members choose to exhibit their project(s) at the Larimer County Fair.  Participation in the county fair can build skills like:
Interviewing & presentation
Goal setting
Responsibility
Time management
Exhibit Requirements:
All projects have specific requirements to exhibit at the Larimer County Fair.  The exhibit requirements are listed in the "premium book."  
You can find a schedule of events, the premium book, and more details at The Larimer County Fair's website. The Ranch will release the premium book for the 2023 fair in Spring / early Summer 2023.
The 4-H Premium Book:
The Larimer County Fair has three premium books for 4-H:
4-H Livestock Premium Book
4-H General and Family Consumer Sciences Premium Book
4-H Dog Premium Book
To find your exhibit requirements, start by finding your project.  If you are on a desktop computer, you can press "Ctrl" and "F" to use the "find" function to search for your project. From there, look for the unit or level you are enrolled in. The exhibit requirements will be based on your unit. Please read the display requirements carefully.
You may see multiple "classes" in each unit. Your class is based on your age:
"Jr." stands for "junior" and is for 4-H members 8-10 years old
"Int." stands for "intermediate" and is for 4-H members 11-13 years old
"Sr." stands for "senior" and is for 4-H members 14-18 years old
If you have any questions, reach out to your club leader.
Colorado 4-H Exhibit Requirements
Colorado 4-H has the 2023 Colorado State Fair 4-H Exhibit Requirements for the General & Consumer Sciences Divisions available here.
Deadlines:
There are a few deadlines to be aware of: 
4-H Enrollment Deadline:
Youth must enroll in 4-H by March 1st, 2023 to be eligible to enter their 4-H project in the Larimer County Fair. 
Project-Specific Deadlines:
Some projects have special deadlines to take part in the Larimer County Fair. Please attend your club meetings, project meetings, look at project pages, and read the Clover Connection Newsletter to get updates. 
Fair Entry Deadline:
In early summer 2023, you will need to enter your projects into the Larimer County Fair. The Ranch is in charge of fair entry. For questions or concerns, please call The Ranch at 970-619-4009.
Fair Entry Recorded Webinar:
This recorded webinar is from 2021. The Ranch administers fair entries. We provide this information to help 4-H members seeking to take part in the Larimer County Fair.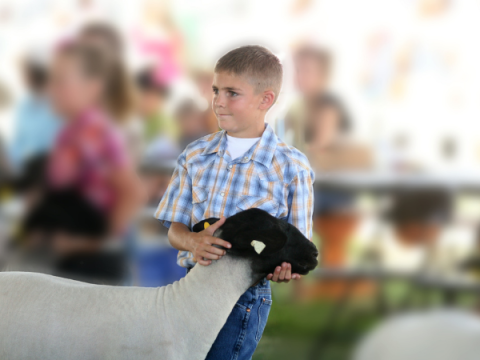 Interview Judging Day
2023 Dates & Schedule coming soon
Please note: You must register for an Interview Judging time slot separately from registering your project/exhibit for County Fair in Fair Entry. Please write down your time slot at the time you select it. Your confirmation email will not include the time of your interview. 
During interview judging day, all 4-H General and Family Consumer Science project members bring their final projects or display boards to the McKee Building with their completed record books. Members sign up in advance for a time slot.

Members will sit down with a judge knowledgeable in their project area and discuss their project, record book, and what they learned throughout the year in the project. The judge will evaluate all submitted projects and decide on placings. Projects are then exhibited for the public in the McKee Building during the Larimer County Fair. Eligible members will have the opportunity to compete at the State Fair based on placing.

4-H members are not required to participate in this opportunity but are highly encouraged to. It is a valuable opportunity for youth to share the results of their efforts throughout the year, practice their interviewing skills, have their work evaluated, and show off their work to the public. To complete their 4-H year, all members must exhibit their projects in some way outside of their family and the County Fair is a wonderful way to meet that requirement.  
2023 Camping Information
Camping is available on the fairgrounds during the Larimer County Fair.  Families must apply for a spot.  Applications are available on The Ranch website under Larimer County Fair, 4-H & Open Class.  Here is the direct link to the Camping Form.
Applications will close on Sunday, June 11.  Everyone will be notified by Friday, June 16 and payments will be due no later than Sunday, July 16.  Please direct your camping questions to The Ranch, 970-619-4000.
---
Colorado State University Extension is an equal opportunity provider. Colorado State University does not discriminate on the basis of disability and is committed to providing reasonable accommodations. CSU's Office of Engagement and Extension ensures meaningful access and equal opportunities to participate to individuals whose first language is not English. Colorado State University Extension es un proveedor que ofrece igualdad de oportunidades.
Colorado State University no discrimina por motivos de discapacidad y se compromete a proporcionar adaptaciones razonables. Office of Engagement and Extension de CSU garantiza acceso significativo e igualdad de oportunidades para participar a las personas quienes su primer idioma no es el inglés.
Col.st/ll0t3
Larimer County Office of Colorado State University Extension
ADDRESS
1525 Blue Spruce Dr.
Fort Collins, CO 80524-2004
Phone: (970) 498-6000 
Office Hours
7:30 a.m. - 4:30 p.m.
Monday - Friday
Our office follows the Larimer County Holiday Calendar for office closures.