Garbage Garage Education Center Open for Drop-ins
At this time, drop-in visitors are welcome Tuesdays - Fridays between 10 am and 2 pm. Please note, we often have scheduled tours and programs happening at the education center. Please check our events listings below on days you would like to drop in. Registration is required for scheduled in-person events. Virtual education (zoom or google meet) is available by request.
DISCOVER. PLAY. BE INSPIRED.
Have you ever wondered how a landfill works? Or what gets made from all that stuff we recycle? At the Garbage Garage Education Center, located at the Larimer County Landfill, you will find out! 
The adventure begins by entering the "Mountain of Trash," a tunnel-like hallway covered in discards from the landfill. Visitors learn just how much trash they create, where it goes, and alternatives to throwing it all away. The various displays attract interest from a wide range of age groups, from preschoolers, elementary to college students, and senior adults. The Garbage Garage is an accessible facility.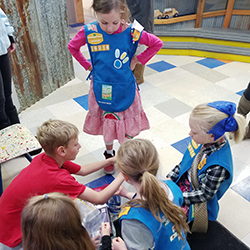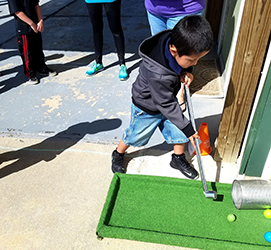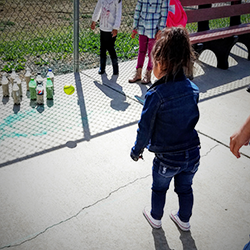 We offer the following free, fun activities where visitors of all ages will learn about waste issues and the environment:
Tours / Field Trips
Tours must be scheduled in advance. We can comfortably accommodate groups of 10 or smaller inside our center. Larger groups can be accommodated if both indoor and outdoor activities are requested. View 
A Garbage Garage Education Center field trip (30 minutes) includes:
Introduction to the Garbage Garage
Guided navigation through displays
Learning about the landfill, the 3R's (reduce, reuse, recycle), and composting
'I Spy' activity / individual exploration
Available upon request:
Added Tours - Recycle Center Observation Room - additional 30 minutes, Landfill Tour (30 minutes - must have bus or van, and space in vehicle for tour guide - weather permitting)
Indoor Activities - Puppet show/story time with craft (preschool), decomposition skit with worm viewing (15 minutes - grades 2 - 3), decomposer hunt (30 minutes - grades 2-3), learn with the worm (30 minutes - grades 2 - 3), natural resources matching/bingo (30 minutes - grades 3-5), landfill model (15 minutes - grades 4-5)
Patio Games (weather permitting) -  Reuse Olympics (30 minutes), Trash Bag Relay (15 minutes), Carbon Game about Climate Change (30 minutes - grades 4-5/middle school)
---
Birthday Parties
You are invited to a birthday party at the Garbage Garage! Schedule a birthday party with us for your child and up to three households. Guests will explore the Garbage Garage, followed by a fun activity or game of your choice, and wrap up with refreshments and gifts (to be provided by the parent or guardian). Dates available: Wednesdays, Thursdays, and Fridays with occasional Saturday availability. Times available: 10am - 11:30am or 12pm - 1:30pm (mornings best for younger guests). Detailed descriptions of the games and activities available upon request.
Preschool: Recycle Truck Craft/Activity, Recycling Puppet Show/Story/Coloring, Race Car Activity, The Lorax Story/Mustache Craft
Elementary-Age: Trash Bag Relay/Reuse Olympics (weather permitting), Recycled Art
Elementary-Age to Tween: Face Painting/Coloring, Canvas Painting Class (allow an hour - guardian's assistance requested)
---
Workshops and Special Events
The Garbage Garage staff will occasionally host workshops or special events. Check our events calendar or facebook page for special events and register today!
---
Drop-in Visits
**Please note: Drop-in visitors are welcome.** Families and individual visitors dropping in during our open hours may encounter an ongoing tour or event. To schedule a time to visit the Garbage Garage Education Center during our open hours Tues-Fri, 10am - 2pm, fill out a request form or call (970) 498-5772. Scheduled visitors will be given an introduction and guided through the exhibits. We'll have a craft available for artistic visitors. Discover new information about waste and recycling, and try some of our hands-on activities. We hope your visit will foster curiosity about the dynamic between human perception and environmental protection.
Contact Us
5887 S. Taft Hill Road
Fort Collins, CO 80526
Schedule a Tour or Get Information: (970) 498-5772
Garbage Garage Education Center: (970) 498-5775
Email: solidwasteeducation@larimer.org
Hours: Tuesday - Friday, 10am - 2pm