2023 Gary A. Darling Grant Award recognizes UCHealth Northern Colorado Foundation's commitment to Behavioral Health and criminal justice
The UCHealth Northern Colorado Foundation was honored with the 2023 Gary A. Darling Grant Award at the Board of Larimer County Commissioners Administrative Matters meeting today.
Presented by Larimer County Behavioral Health Services (BHS) and the Board of County Commissioners, this prestigious award recognizes the Foundation's commitment to addressing a critical need in the community for a compassionate and appropriate response to individuals experiencing a mental health crisis.
The Gary A. Darling Grant, a part of the BHS Impact Fund Grant Program, is bestowed upon programs that have demonstrated significant contributions in the realms of behavioral health and criminal justice.
The grant award, totaling $112,061, will be dedicated to continuing education for co-responder clinicians and sustaining the mental health co-responder program in collaboration with Fort Collins Police Services. Working in tandem with law enforcement, co-responders provide immediate support to individuals facing behavioral health challenges. They help ensure a compassionate response, thereby enhancing community safety.
"With our co-responder program, the strength and size of your hearts is huge, and thank you for your care and commitment to our community especially for those who are in the middle of a crisis. I'm very excited to see that you are receiving this award and grant," said Larimer County Commissioner Jody Shadduck-McNally.
"This is a way to right-size the response that we have toward certain situations. And, I appreciate that we're looking at this kind of work in a different way,"  said Larimer County Commissioner Kristin Stephens, "I think it distinguishes our community as one that really cares about taking care of folks."
This grant award marks a significant step in the ongoing efforts to bridge the gap between behavioral health and criminal justice in our region. BHS extends its sincere congratulations to UCHealth Northern Colorado Foundation, commending their dedication to fostering a safer and more caring community.
"I had the experience of doing a UCHealth ambulance ride along, and I was so mightily impressed by the kinds of questions these folks were asking and the genuine care they had --- it really moved me. It was very clear that they had the training in the aspects and were listening to help them. The co-responder program is critical in mental health crises," said Larimer County Commissioner John Kefalas.
"We are honored to be recognized and to receive this grant to support our growing co-responder program," said Andrea Linafelter, UCHealth's manager of behavioral health services in Northern Colorado. "Our co-responders are serving in a very important role in our community - helping members of our community at some of their most vulnerable moments, giving them glimpses of hope, connecting them with the resources they need, and improving lives. But they couldn't do it without our many community partners and the community's support."
The Gary A. Darling Grant Award honors programs and organizations that make a notable impact in the areas of behavioral health and criminal justice. Named after Gary Darling, a dedicated public servant who championed these initiatives, the award celebrates entities continuing his legacy of community service.
For more information about the UCHealth Northern Colorado Foundation and its initiatives, please visit www.uchealthnoco foundation.org.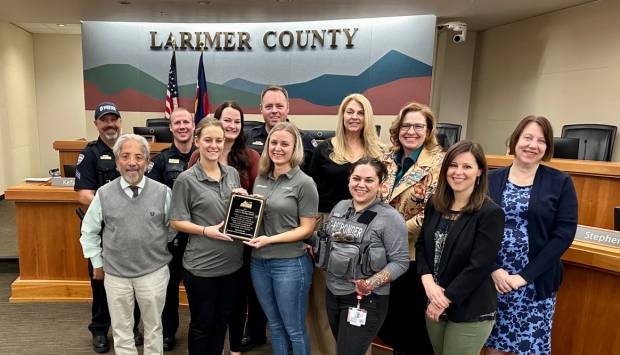 Published on:
Tuesday, October 24, 2023 - 1:42pm
Jennifer Wolfe-Kimbell, Communications Specialist, Behavioral Health Services [970]-498-7127, wolfekje@larimer.org
Behavioral Health