Environmental Stewardship Awards
Larimer County's annual Environmental Stewardship Awards recognize individuals and organizations that are good stewards of the environment.
What we recognize
The awards recognize the environmental stewardship activities of individuals, organizations, business, or public agencies that take place within Larimer County. The activities can be simple or complex. Successful nominations are projects that are effective, innovative, creative, provide leadership and sustainability. The nomination form will help guide you through those criteria.
Suggestions for possible nominations include: an individual that shows a commitment to environmental stewardship on their property or in the community, an educator who is dedicated to instilling an environmental ethic in their students, or a business that uses innovative practices to minimize impacts and enhance the environment. A list of the previous stewardship awards is available on the county website.
Submit a nomination
Anyone is eligible to nominate a deserving individual, organization, business, or public agency for an award.
The 2022 nomination period is now open and closes March 27th!  
How the awards are selected
The county's Environmental and Science Advisory Board reviews and evaluates each of the nominations based on four criteria:
Educational value of a project
Actual environmental benefit
Degree of commitment
Impact to Larimer County
Then they make recommendations to the County Commissioners who make the final selection. The winners will be recognized by the Commissioners at a regularly televised meeting.
Questions
We can be reached by phone at (970) 498-5738, or by email if you have questions about the stewardship awards program.
Last Year's Awardees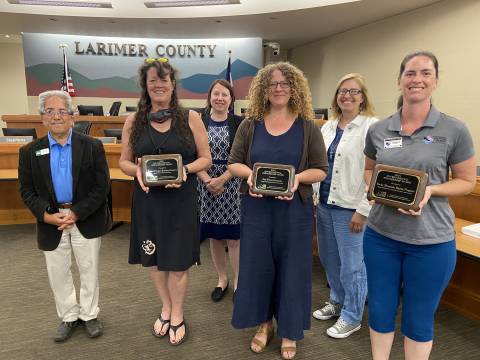 Left to Right: Commissioner Chair John Kefalas; Carol Cochran, Horse and Dragon Brewing Company; Commissioner Kristin Stephens; Marna Widom , One Times Everyone; Commissioner Jody Shadduck-McNally;  Jessica Miller, Rocky Mountain Raptor Program
---
We are excited to present Larimer County's Environmental Stewardship Awards for 2021.  This was the 26th year for these awards!
Horse and Dragon Brewing Company
When restaurants and pubs were shut down in March of 2020, Horse & Dragon Brewing Company decided to use their expired beer for good rather than disposing it into the City of Fort Collins wastewater treatment system.  Their project involved donating their beer to gardens and farms around Larimer County who then used the beer to inoculate their compost piles.  The beer worked to jump start the decomposition process and improve the beneficial properties of the compost.  The project provides a great example of waste diversion by keeping it out of the water treatment system, and their work promotes land and water stewardship.
One Times Everyone
One Times Everyone, a local non-profit, recognized the power that small steps can make toward a greater good. Their work focuses on addressing our climate crisis through implementing a giving circle model.  This is where each person gives $2.00 monthly, but their donation is compounded with others and then distributed to a different organization each month.  They ask for small donations so they can ensure that their work compliments, rather than interferes with, a person's regular donating habits.  This gives people the opportunity to work together on equal ground and to show anyone involved, especially children, what can be accomplished when everyone does just a little.  In 2020, they gave $250 pooled from 57 people to each of the four Larimer County organizations they donated to.  This year they are on track to beat that monthly giving and also increase the number of Larimer County Organizations that they contribute to.
Rocky Mountain Raptor Program
The mission of the Rocky Mountain Raptor Program, is to inspire the protection and appreciation of raptors and the spaces where they live through excellence in rehabilitation, education, and research.  The program treats injured hawks, eagles, falcons, and owls and then evaluates them for survival skills prior to releasing them back into the wild.  In some cases, when they are not releasable, they become educational ambassadors as they participate in educational programs.  Each year, the Rocky Mountain Raptor Program works with more than 15,000 school children through their educational programs.  In response to the 2020 pandemic, the RMRP continued to serve the community by live streaming their educational programs as well as doing virtual open houses.