Step 1: Ballot Printing/Assembly
Ballot packets are assembled about six weeks prior to Election Day at the printing vendor's location.
Ballot packets include: a ballot, a return envelope, voter instructions and any special instructions unique to the current election.
Step 2: Ballot Packets are Mailed
Ballot packets are mailed to voters about three weeks prior to Election Day.
Ballot packets sent to military or overseas voters are sent forty-five days prior to Election Day to allow for a longer transit time.
Step 3: Voter Completes and Returns Ballot
Voters have until Election Day to vote their ballot, seal it in the envelope, read and sign the oath on the envelope and return it to Larimer County Elections.
Voted ballots must be received by the Larimer County Elections office by 7 p.m. on Election Night.
Ballots can be mailed (postage rates apply) or dropped off at any of the Voting Locations up to and including Election Day.
Step 4: Signature Verification
Signatures on the returned envelopes are compared to signatures from the Voter Registration System. If the signatures match, the returned ballot packet is approved to move forward to removal.
Voters whose signatures do not match are contacted by mail with information to resolve the signature discrepancy. Voters can resolve the discrepancy within eight days after election day and their ballot will be counted.
Step 5: Removal
The ballot packets are opened and the contents removed following the steps outlined below.
The ballots are removed from the envelopes.
Ballots are flattened and ballot stubs are removed.
Step 6: Counting
Ballots are counted using optical scan equipment.
Election judges process ballots up to fifteen days prior to Election Day.
Step 7: Duplication
Ballots are sent to duplication due to physical damage that prevents them from being run through the optical scan equipment.
Trained election judges use the Voter Intent Manual created by the Secretary of State's Office to ensure consistency when duplicating ballots.
Step 8: Tabulation
Lastly, the voted ballots are tabulated.
The first unofficial results are posted to our website shortly after 7 p.m., and then additional results are posted throughout the evening.
Official results are determined after the Canvass Board meets and certifies the election results, which is approximately two weeks after the election.
Per the Americans with Disabilities Act (
ADA
), Larimer County will provide a reasonable accommodation to qualified individuals with a disability who need assistance.  Services can be arranged with at least seven business days' notice.  Please email us at 
elections@larimer.gov
 or by calling 970-498-7820 or Relay Colorado 711. "Walk-in" requests for auxiliary aids and services will be honored to the extent possible but may be unavailable if advance notice is not provided.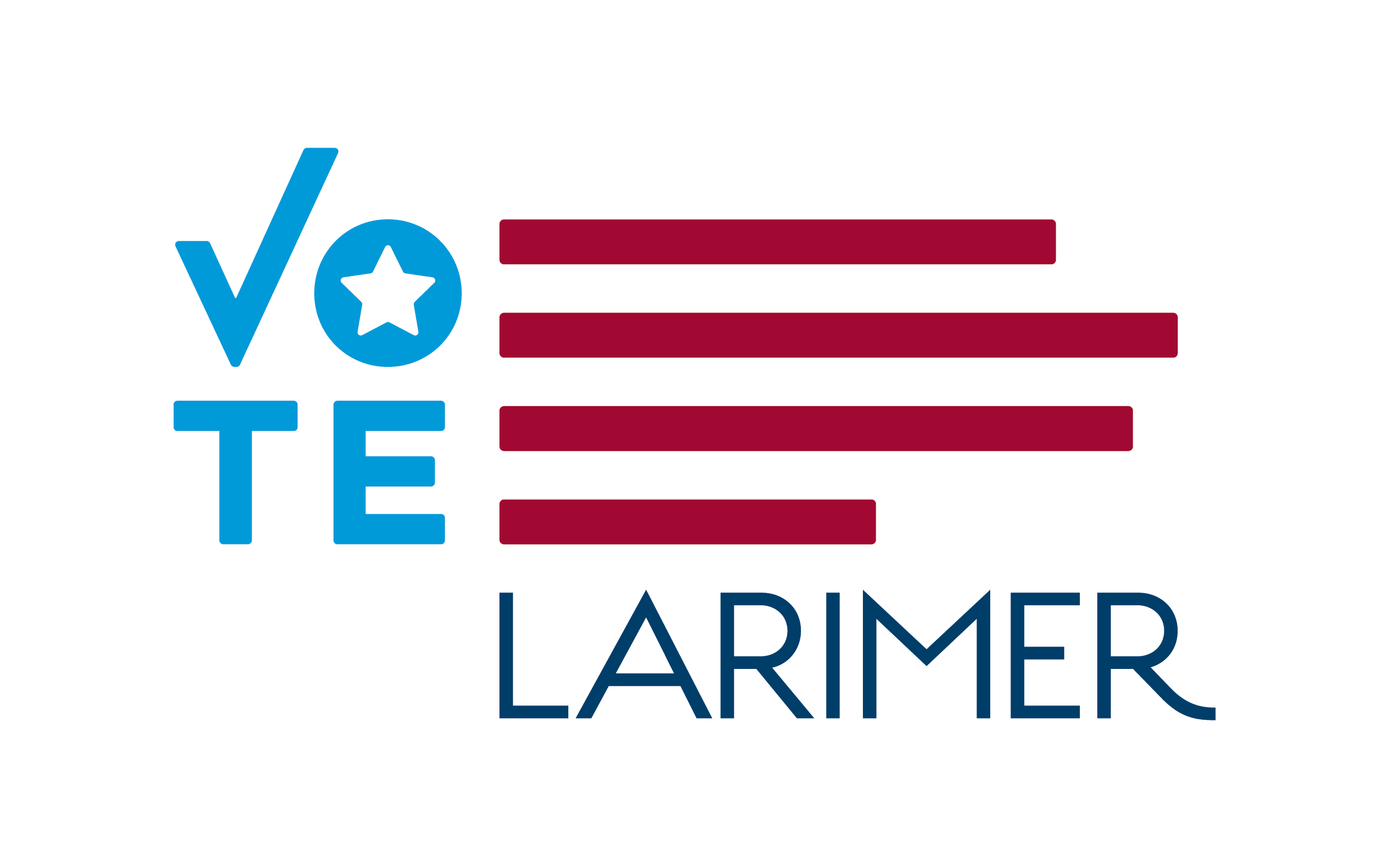 Contact Elections
200 W Oak St, Suite 5100, Fort Collins, CO 80521
PO Box 1547, Fort Collins CO  80522
HOURS: 8:00am - 5:00pm, Monday - Friday (except holidays)
EMAIL: elections@larimer.gov
PHONE: (970) 498-7820 | FAX:  (970) 498-7847
Our Locations | Facebook | Twitter