Creative Cooks Contest Registration Open
Plan a full menu, create a place setting, cook an item from the menu, and wow the judges! The Creative Cooks Contest helps 4-H members build important life skills. All 4-H members are welcome to enter. The registration deadline is June 1st.
Cloverbuds is for 5-7 year old 4-H'ers
Cloverbuds is an exciting 4-H program for 5- to 7-year old children. Our youngest 4-H'ers aren't quite ready for some project areas and/or activities. But there is still plenty for them to do in 4-H!
The emphasis in Cloverbuds is on participation, learning and teamwork, not competition. For example, they might:
Learn about nutrition while helping to prepare simple snacks
Plant seeds and learn what to do to help them grow
Decorate a cake to learn about elements of design and planning
and more!
Cloverbud Activities
Cloverbuds can participate in many 4-H activities. Activities include:
Participation in 4-H club
4-H Fashion Revue
4-H Carnival
Cat Show (stuffed cat only)
Demonstration/Speech with club or participate at county contest
Creative Cooks
Performing Arts
Cake Decorating
Cloverbud Camp
Larimer County Fair
Cloverbud Kits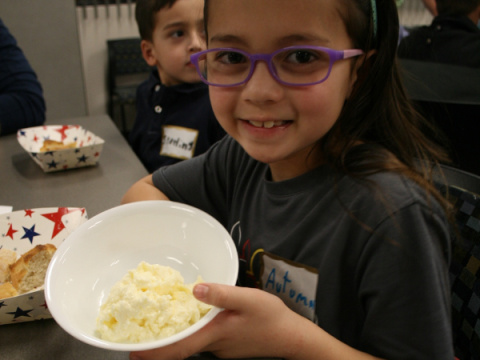 How to be a Cloverbud?
To be a Cloverbud, you will enroll in 4-H just like anyone else:
Pick your 4-H Club. Not all 4-H clubs have a Cloverbuds leader, so look for one that does.
When enrolling in 4-H, pick "Cloverbud" as your "project." 
Pay your enrollment fee
What do Cloverbuds do?
Cloverbuds are members in a 4-H club with a trained leader. Not all 4-H clubs have a Cloverbuds leader, so look for one that does.
The youth participate in activities and special workshops and events throughout the year such as:
Demonstrations
Community service
Being a part of a team
Limitations of Cloverbuds
Small children have different emotional and physical safety needs than older children. We take these needs into account for Cloverbuds. We pick activities appropriate for children aged 5-7 years old.
For their own safety, Cloverbuds do not take part in:
Shooting sports
Raising animals
Baking
Launching rockets
Questions?
Thinking about signing up for to be a Cloverbud? Already enrolled but have questions? Contact:
Pam Heeney
4-H Administrative Specialist
heeneyps@co.larimer.co.us
970-498-6012
Bailey Schilling
Extension Agent, 4-H Youth Development Livestock & Shooting Sports Agent
970-498-6022
schillbw@co.larimer.co.us
---
Colorado State University Extension is an equal opportunity provider. Colorado State University does not discriminate on the basis of disability and is committed to providing reasonable accommodations. CSU's Office of Engagement and Extension ensures meaningful access and equal opportunities to participate to individuals whose first language is not English. Colorado State University Extension es un proveedor que ofrece igualdad de oportunidades.
Colorado State University no discrimina por motivos de discapacidad y se compromete a proporcionar adaptaciones razonables. Office of Engagement and Extension de CSU garantiza acceso significativo e igualdad de oportunidades para participar a las personas quienes su primer idioma no es el inglés.
Col.st/ll0t3