4-H year runs from October to September. You may enroll in 4-H year round.  However, to participate in the Larimer County Fair, you must enroll before March 15th.  
We are currently in the 2021/ 2022 4-H Year. The 2022/ 2023 4-H year will begin on October 1st, 2022. 
Membership to 4-H is open to any youth who are age 8 – 18 by December 31st. Children ages 5 – 7 are encouraged to explore the 4-H Cloverbud program, which is designed specifically for these ages.
Steps to Register: 
Pick Your Club
Pick Your Project(s)
Pay Your Enrollment Fees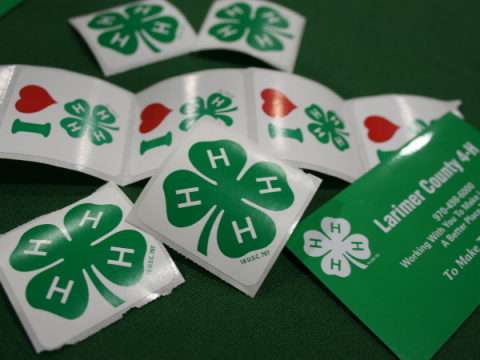 Step One: Select your 4-H Club
The first step to joining the 4-H program is selecting a local club. Each club is unique depending on the club leader, families involved, most popular projects among club members, the size of the club, etc.
Consider the following: 
Location, day, & time the club meets
Does the club have support for at least some of the project areas you are interested in?
What is the club culture, size, and expectations?
To get started, review the club directory & identify 2-3 clubs that:
Are accepting new members
Meet at a day/time/location that work for you
Support projects you're interested in 
Contact those club leaders and ask to join a meeting to observe. We recommend observing at least 2 different club meetings before you choose a club. After you do so, select the club you would like to join & let the club leader know. 
Step Two: Select your 4-H project(s)
Look through the many projects Larimer County offers. You may choose one or more projects. Projects are fun to do alone and/or with your friends. Think about:
An interest you'd like to explore
A hobby you'd like to learn more about
A topic of interest shared by you and your family
Something that is fun for you
If you have questions about a project, each project page lists who you can contact. 
Step Three: Enroll in 4-H Online
You must visit 4-H Online in order to enroll in 4-H.  After you have enrolled in 4-H, you need to pay your enrollment fees to Larimer County 4-H.  You can return to this page to pay your fees. 
Step Four: Pay Your Enrollment Fees
PLEASE NOTE - the deadline to register for 4-H & participate in the Larimer County Fair has passed. You can still register for the 2021/ 2022 4-H year, but you will not be eligible to participate in the Larimer County Fair.
Questions?
Have questions? Contact:
Pam Heeney
4-H Administrative Assistant
Larimer County Extension Office
1525 Blue Spruce Dr
Fort Collins CO 80524
970-498-6000
heeneyps@co.larimer.co.us