Market Days! for Older Adults
Reducing Food Insecurity · Supporting Healthy Aging · Supporting Local Farmers
Market Days! for Older Adults is a unique program that addresses food insecurity among older adults while supporting local agriculture. The program began in summer 2018.
How Market Days! for Older Adults Works
We receive money from grants, sponsors and donations to buy food from local farmers who are at the Larimer County Farmers' Market. Volunteers then bag up the produce in reusable shopping totes.
We work with partner organizations to distribute the food across Larimer County, including rural areas like Berthoud, Loveland and Red Feather Lakes. Some recipients pick up their Market Days! bag on Saturday at the Farmers' Market. Those who do not have access to transportation and are not affiliated with a community partner get home delivery.
Participants receive $15 worth of fresh produce bag every other week from June until the end of October.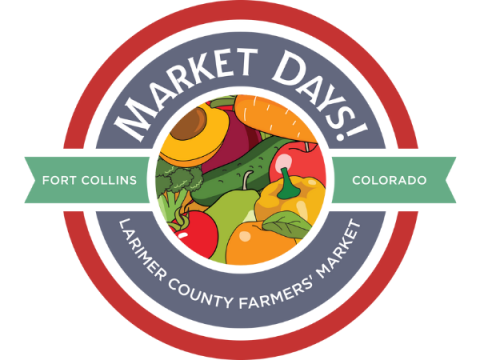 Why Market Days! is Important
Patricia Lipinski, FNP, is a Nurse Practitioner at St. Luke's Medical Clinic. She loves Market Days for older adults because of how it supports healthy aging for her clients. As she says:
"Many of our patients live in poverty. One 90-year-old woman living alone was eating cat food. Several started crying when we delivered their bag of fresh produce. Market Days! is greatly needed in our community."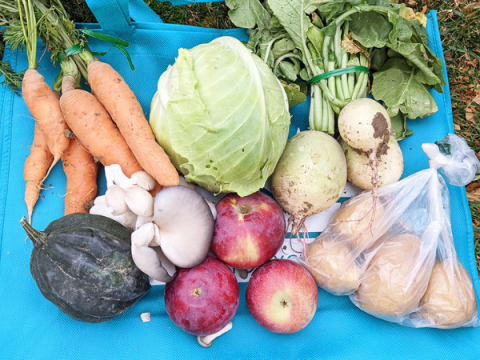 Market Days! supports healthy aging while reducing food insecurity. Through our partnership with other community organizations, we can even reach rural areas, such as Red Feather Lakes.
 
Support for Healthy Aging
The produce provided in Market Days! bags is carefully selected to ensure it's easy to use. Besides fresh produce, Market Days! bags also include:
Recipes and tips on how to cook or preserve the produce provided.
Information sheets on aging-related resources and services available in Larimer County.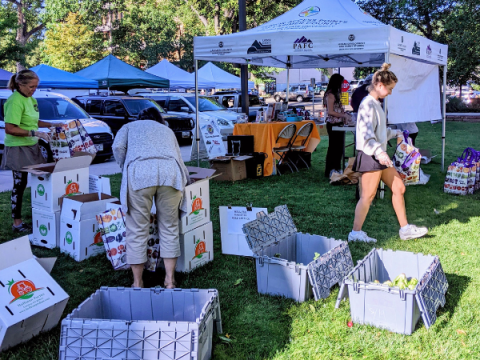 Volunteers sign up to deliver bags of fresh produce to older adults who need assistance in Larimer County. For many, the bags of vegetables can be life-changing.
A Community-Wide Effort
From volunteers, local farmers, county leaders, and partners, Market Days! is truly a community-wide effort.
Some of our community partners who participate in the program include:
The Larimer County Office on Aging
Housing Catalyst
Meals on Wheels Fort Collins
A Little Help
Neighbor to Neighbor
Loveland Housing Authority
Loveland's Community Kitchen
Logo Vista Mobile Home Park
St. Luke's Medical Clinic
Red Feather Lakes Community Library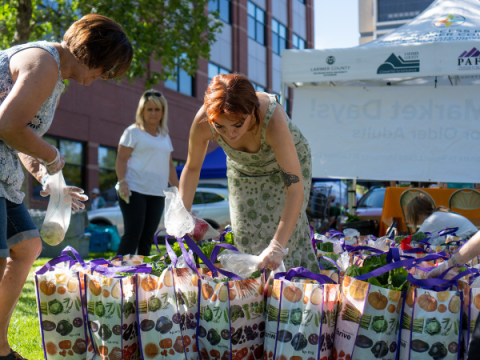 For older adults who need assistance, the cost of fresh produce can be a barrier. More affordable food choices, such as dry and canned goods, are not the most nutritious options.
Support Market Days! for Older Adults
"Buy a Bag" for $15
With increasing levels of food insecurity across the state, the number of older adults in need is expected to grow as well.
You can make a difference! For just $15, you can buy a bag of farm-fresh local produce for an older adult in need. Your donation:
Helps reduce the hard decision between paying bills or buying food
Supports healthy aging
Connects local farmers to the greater community
Sponsor Market Days! for Older Adults
We offer a variety of sponsorship opportunities for small and large businesses. Your sponsorship supports our work to reduce food insecurity in older adults in Larimer County.
Review our Sponsorship Opportunities
For more information, contact Cheryl Noble at the Larimer County Extension Office: cnoble@larimer.org or 970-498-6000.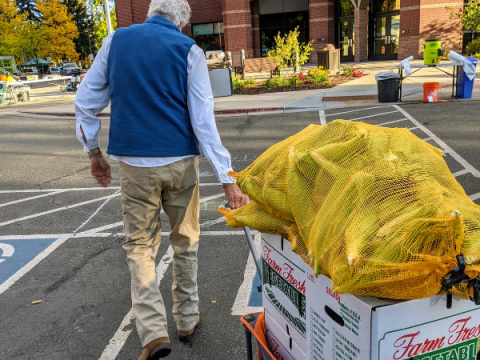 We buy produce from farmers at the Larimer County Farmers' Market. This supports local producers and the Northern Colorado farming community.
 Thank you to our 2022 Sponsors:
2022 Premier Sponsor: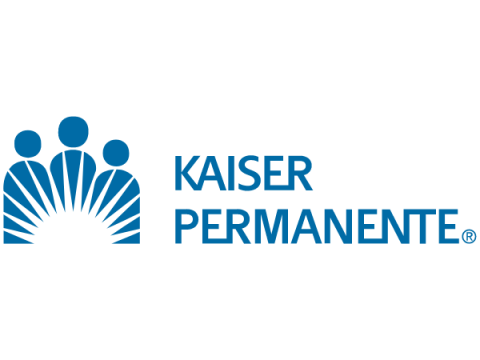 Other 2022 Sponsors: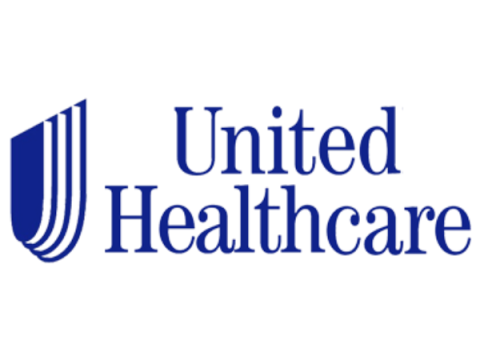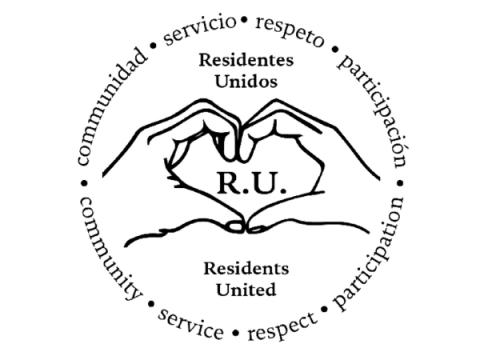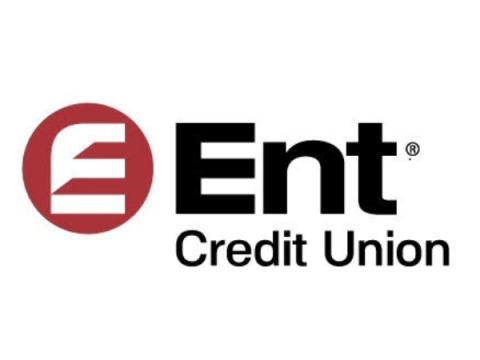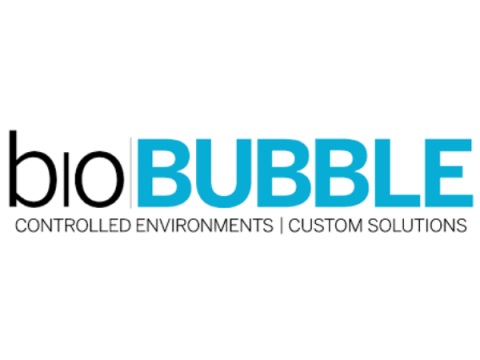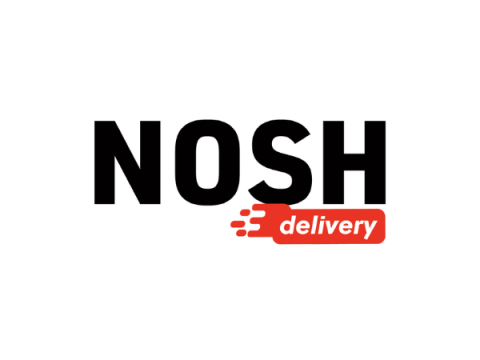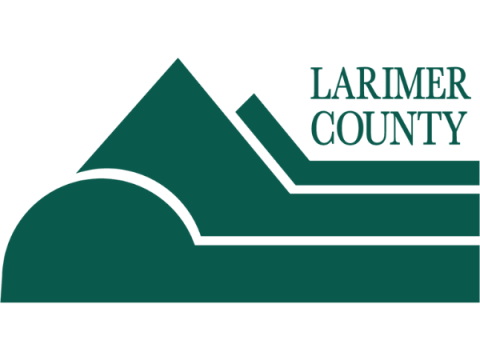 2021 Impact Report
Click here to view a PDF of our 2021 Impact Report
Total bags distributed between May 22th – Oct. 23rd, 2021: 1,445 (a 25% increase from 2020)
65 Volunteers – a total of 363 volunteer hours
Number of Older Adults Served: 480* (*an additional 46 children benefited through Grand Family Coalition)
Total Dollars to Local Farmers: $18,785
11 Community Partners:

Larimer County Office on Aging
Grand Family Coalition
Meals on Wheels FC
Lago Vista Mobile Home Park
A Little Help
Housing Catalyst
Neighbor to Neighbor
Red Feather Lakes Library
Mason Place
FC Neighborhood Services
St. Luke's Medical Clinic
2020 Impact Report
Click here to view a PDF of our 2020 Impact Report
Number of individuals served: 269
Participants received an average of 4.3 bags during the market season
Total bags distributed: 1,161
Total Volunteers: 73
Total Volunteer Hours: 413
Total dollars spend: $25,390
Community Partners that participated: 

Housing Catalyst
The Northern
Lagovista Mobile Home Park
Grand Family Coalition
Crossroads Church
Larimer County Office on Aging
A Little Help
Partnership for Age Friendly Communities
Meals on Wheels of Fort Collins
Neighbor to Neighbor
Arikara Farm Project

Generous Sponsors: 

Larimer County
Bath Garden Center & Nursery
Associates in Family Medicine
Next 50 Initiative

In 2020, with support from a COVID relief grant from the NextFifty Initiative and funding from the Larimer County Office on Aging, the program generated an additional $25,000 in revenue for participating farmers.

In addition to produce from market farmers, some produce is donated by community partners. In 2020, Market Days! received a donation from the Colorado Dry Bean Committee to provide Colorado-grown beans for participants.
2022 Larimer County Farmers' Market Season