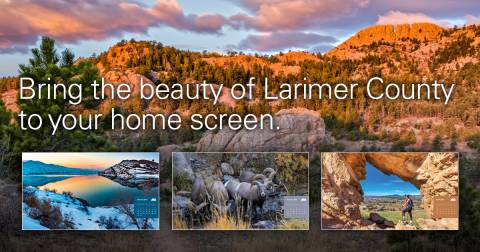 From the office or from home – enjoy a momentary escape to your favorite Larimer County open space, reservoir park or trail.
Free to download and enjoy all year long, the 2023 Natural Resources calendar is full of spectacular photography curated from talented LCDNR volunteer photographers, sized to conveniently fit your desktop home screen.
Join us in saving valuable natural resources via this digital format, and we invite you to share your love of Larimer County Natural Resources with your friends and family, far and wide, by sharing this page link. 
Download Instructions
Two options are offered for downloads. Choose a calendar version or a "clean" version, which does not offer the calendar graphic. 
To download, right click and choose "Save Image As". Locate a folder on your computer in which you would like to save the 2023 images. Click Save.
Then, go to the folder in which you have downloaded and saved this imagery, and find the appropriate month you would like to display.
Right click the image and choose "Set as desktop background."   The image should now be highlighted as your desktop background. 
Click a photo to enlarge.