Paddle Safely this Summer
Whether you are a kayaker, canoer, or stand-up paddleboarder, it is important to understand the rules and regulations paddle craft must abide by at Larimer County reservoirs.
Know before you go: Check the weather, and look west before heading up to the reservoir. In Colorado, the weather changes quickly and often. Make sure you are taking the correct equipment for whatever the weather brings.
Wear It: In Colorado, it is required for paddlers to have a PFD on their craft at all times. We recommend you wear your PFD at all times when on the water. Children 12 and under are required to wear their PFD with a penalty of a $100 fine. 
Have the correct equipment: Paddlecraft must be equipped with enough PFDs for everyone on board, and each paddler needs to carry a whistle with them. Also, bring plenty of water, sunscreen, and a hat. 
Make a float plan: Tell someone what your plan is. Include the number of people in your group, a description of the crafts with the group, the safety equipment on board, and when you expect to return. 
Dogs: Have your pet wear a PFD. Water can be choppy at the reservoirs and can easily overwhelm an animal. Keep them on a leash if they are unsure swimmers, and avoid wakes from boats.
Stay Close to Shore: Non-motorized craft are at greater risk in the channel. Play it safe - keep to the calmer waters in coves and stay close to shore.
Be Bright: Stay visible to motorized boaters, especially at dusk. Choose colorful and/or reflective craft, clothing, and PFDs. Never lie on your board in a wake zone!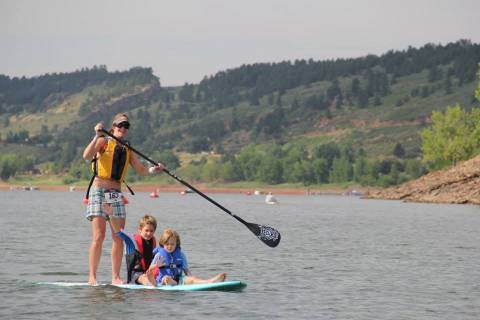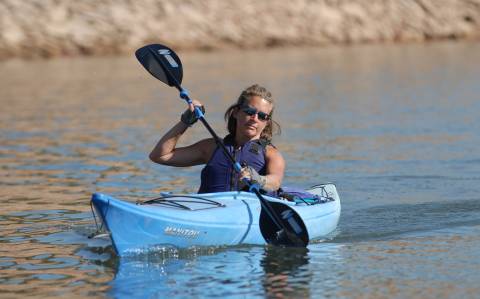 Choosing the Correct PFD
There are a number of different types of life jackets on the market. Review 
Safety Starts with You
Where to Paddle in Larimer County