Small Grants for Community Partnering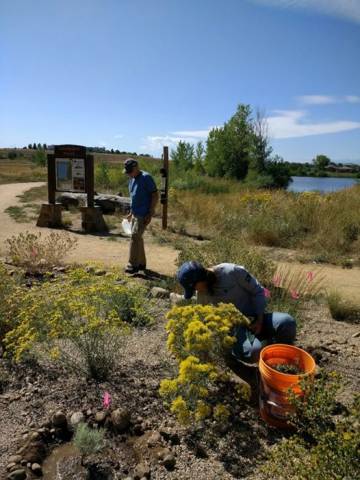 The Small Grants for Community Partnering (SGCP) program is an inherent part of Larimer County Department of Natural Resources' Open Lands Program, which gives back up to $20,000 of the Help Preserve Open Spaces 1/4-cent sales tax funds annually and directly to communities throughout Larimer County. Since 2008, Larimer County has awarded nearly $350,000 for 214 community and neighborhood projects that connect people to the land.
Individual grant awards are available up to $3,000 per project, limited to one application per applicant. The program seeks to fund new projects or capacity building requests-only. General operating requests will not be considered.
2022 Small Grants Program Webinar (Recorded) 
Last year's recorded grant webinar provides detailed information about the Small Grants Program's eligibility and requirements
Apply for a Small Grant
The 2022 grant cycle is now closed. The next grant cycle (2023) will open in Summer 2022.
Don't miss out! Sign up here to receive important program updates and announcements. 
Who can apply?
Anyone can apply, with just a few exceptions and parameters:
Government agencies already receiving Help Preserve Open Spaces tax dollars may not apply directly. This includes but is not limited to City of Fort Collins, City of Loveland, Town of Estes Park, Town of Berthoud, Town of Wellington and Town of Timnath.
For projects on public lands and for government agencies — excluding educational institutions — the applicant must be a 501c3 non-profit or other non-governmental entity with an active, leadership role in the project.
Together with the grant application, all affected landowners must agree in writing with the project. Homeowners' and Property Owners' Associations must submit a copy of board meeting minutes approving the project. Educational institutions must provide a letter from the appropriate facilities director agreeing to the specific project.
Applicants leasing property from a private property owner must submit a letter from the owner outlining the terms of the lease and renewal date and agreeing to the specific project.
Program Background
The Larimer County Small Grants Program is an initiative of the Larimer County Open Lands Program to disburse Help Preserve Open Spaces Sales Tax dollars throughout the County for projects related to conservation and enhancement of, and recreation and/or education on, open space on public and private lands. Initiated in 1997 with a trial project (Ptarmigan Run), the program funded six projects the following year.
In 2001, the program was formalized in the Open Lands Master Plan, adopted by the Larimer County Open Lands Advisory Board and the Board of County Commissioners and subsequently incorporated into the Larimer County Land Use Code. In 2006, the small grants subcommittee of the Open Lands Advisory Board formalized grant selection criteria, procedures, and a project score card to help the subcommittee objectively select projects for funding.
In 2009, the Open Lands Program focus was to connect people and communities to the lands that had been successfully conserved and protected: People who are connected to the land care about what happens to it. The Open Lands Advisory Board approved expansion of the Small Grants Program into new areas which promote land connections: "agriculture," "increased access to open spaces and natural areas," and "research on Larimer County open spaces." These were in addition to the original grant category, "protection or enhancement of open space, trails, natural areas, wildlife habitat, river areas, and wetlands on private or public land." The Small Grants Program was renamed to Small Grants for Community Partnering. Funding was increased from $10,000 to $20,000 annually to be awarded for grants up to $3,000 each.
In 2012, the intent of the program was reaffirmed: to provide citizens with direct access to open spaces sales tax dollars; to allow citizens to leverage dollars with seed money for project implementation; to encourage citizen partnerships; to reach communities with which the program has not historically interacted; and to increase visibility, support, and appreciation for the Open Lands Program.
How to Apply
Review the application instructions first, which will guide you through the rest of the application requirements.
Application Instructions
Grant Proposal Components

General Information
Narrative Sections

Organizational History and Background
Project Description
Need
Public Access
Partnerships and Volunteers
Diversity, Equity, and Inclusion * (New)
Budget Narrative
Maintenance
Evaluation

Attachments (upload through the online form)

Budget Worksheet (Required)
Project Maps/Drawings/Photos (Required)
Letters of Support (2) (Required)
Property Owner Consent (If applicable)
IRS Determination Letter (If applicable)
Please contact the Program Officer, Jenn Almstead at jalmstead@larimer.org or (970) 619-4569 with any questions.
Funding Limitations
We fund:
Project expenditures such as costs associated with project implementation, materials, supplies, etc. Delivery or shipment of project materials is permitted but cannot exceed more than 5% of the total grant request.
Tools and equipment (e.g. GPS units, weed sprayers, etc.) may be funded to 501c3 non-profit organizations only, with acceptable justification of why they are required for implementation of the project.
We do not fund:
Salaries and/or project planning expenses, except for category "E" projects
Transportation expenses; except for categories "D (2)" and "E" projects
Grant Cycle
September:  The Program Officer will conduct an initial review of the applications and verify project eligibility.
October – December:  The subcommittee will review the applications and set up a time to meet with each of the applicants. The meetings will predominantly be virtual and take place on a video teleconference, such as Zoom or Google Meet. In limited cases, a site visit may also be requested by the subcommittee.

January – March:  The funding recommendations are presented by staff to the Open Lands Advisory Board. The board ultimately makes the final selection of grant awards. The Program Officer will notify awardees and finalize contracts and declarations.
Requirements if You're Awarded a Grant
If selected to receive a small grant, a Contract and Declaration between Larimer County and the grant recipient is required prior to receiving the award. The contract will include the amount of the grant award, specific items funded, the timeline for project completion, monitoring and reporting requirements, and other conditions.
If a funded project changes from the initial application and budget, a written change request is required before any dollars are spent. The applicant may be asked to resubmit for another grant year if the project changed enough to affect how it would have been rated when in competition with that year's other applications.
Award recipients are required to submit progress photos and/or videos during the project which will be shared via the county's social media channels.
Following project completion, Larimer County staff and/or Open Lands Advisory Board members may conduct a site visit. Further visits may be necessary in subsequent years depending on the level of monitoring required for a particular project.
Award recipients must complete the project and submit a final report within 12 months from the grant award date. Any unused funds past this date will need to be returned back to Larimer County. Failure to submit the final report will result in disqualification for future awards.
2021 Small Grants for Community Partnering Awardees
| | | | |
| --- | --- | --- | --- |
| Project Applicant | Project Name | Amount Funded | Project Location |
| Denver Museum of Nature & Science | Age and Origin of Larimer County's Signature Stone: The Lyon's Sandstone | $2,977 | Larimer County Open Spaces |
| Georgetown Townhomes HOA | Georgetown Gardens | $3,000 | Fort Collins |
| Heart-J Center for Experiential Learning | Heart-J Adventure Trail at Sylvan Dale Ranch | $3,000 | Loveland |
| Loveland Historical Society | Mariano Medina Cemetery Site Improvements | $2,060 | Loveland |
| Loveland Youth Gardeners | LYG Site Development | $3,000 | Loveland |
| Sproutin' Up | CSA Farm Expansion | $3,000 | Fort Collins |
| Terry Shores HOA | ADA Lake Access Project | $1,727 | Fort Collins |