DTA
8th Judicial Chief Deputy District Attorney Amanda Duhon Named Prosecutor of the Year
Chief Deputy District Attorney Amanda Duhon was awarded the Prosecutor of the Year, Robert R. Gallagher Award by the Colorado District Attorneys' Council. Selected from over 800 prosecutors across Colorado, she was presented with the award at the 2023 annual conference by District Attorney Gordon P. McLaughlin.
In presenting the award, McLaughlin remarked, "Chief Deputy Duhon is a shining example of what it means to be a prosecutor, a leader, and a public servant in the modern world of criminal justice. She demonstrates an unwavering dedication to victims, the community, and her colleagues. Her thoughtful approach to criminal justice serves to inspire a new generation of prosecutors and she is truly deserving of this recognition."
Duhon first joined the 8th Judicial District Attorney's Office in 2011 and currently serves as chief of the County Court division. Over an illustrious career, Duhon has established herself as a fierce advocate for victims as well as a forward-thinker in addressing contemporary, complex issues in criminal and social justice. 
Collaborating with community and court stakeholders, Duhon was a driving force in establishing the first-ever competency docket in Colorado, a transformational model that connects defendants in the restoration process with local resources while the Colorado Mental Health Hospital faces backlogs and long waitlists. Duhon also serves on the Adult Competency Subcommittee of the statewide Legislative Oversight Committee Concerning the Treatment of Persons with Behavioral Health Disorders in the Criminal and Juvenile Justice Systems, where she is actively working on improving behavioral healthcare solutions and laws which will benefit the efficient and equitable administration of criminal justice.
Duhon also led the creation of the 8th Judicial District Adult Diversion program, which allows individuals with low-level offenses to have an alternative to prosecution and incarceration that focuses on accountability, taking personal responsibility, and repairing harm. She has been instrumental in expanding juvenile Diversion programs as well, all of which work towards reducing violence and recidivism rates in the community. 
Duhon is also dedicated to ensuring victims of crime feel heard, believed, and supported throughout a case. While serving as Chief Deputy of the Special Victims Unit, Duhon personally led the prosecution of many serious sexual assault cases, often facing unique challenges that require substantial, dedicated work. Duhon nevertheless rises to every occasion to seek justice. 
"Being a prosecutor is a privilege I take very seriously,"  says Duhon. "Every day I strive to treat everyone I encounter in this job with dignity and compassion. I am honored and humbled to have received this award."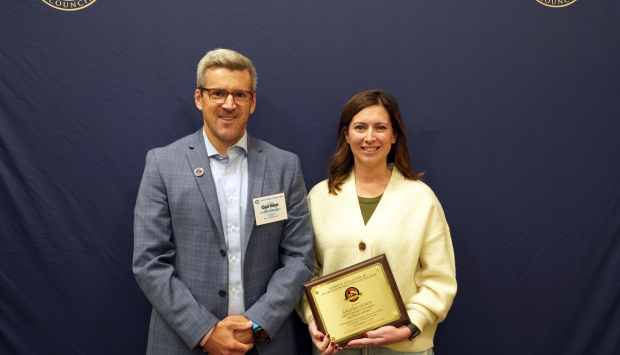 District Attorney