COVID-19 PUBLIC HEALTH ORDER COMPLAINTS:
All complaints related to COVID-19 are handled by the Environmental Health Department. 
If you have a complaint, please email covidconcerns@larimer.org.  If you have any questions, please visit our COVID-19 web page for more information.
LANDLORD/TENANT DISPUTES: 
If this is a tenant/landlord dispute, we are unable to provide assistance in these matters as they are civil in nature.  There is a free legal clinic at the Fort Collins Old Town Library that may be able to offer some assistance on the 1st Friday of the month (2:00-3:30 PM).  There is limited space and it is a 1st come, 1st service basis with a paper sign up sheet. 
For more information about the free legal clinic, please call 970-221-6740. 
MOBILE HOME PARK OVERSIGHT PROGRAM:  Mobile home owners, mobile home park owners, and mobile home park managers can submit complaints for dispute resolution through the Department of Local Affairs, instead of taking issues to court, which can be costly.   Click here for the website.
OTHER DISPUTES:
Call the Code Compliance staff on call (970-498-7683) to confirm whether the situation is a violation of County regulations. 
Try to make contact with the responsible person.  Describe your perception of the problem and how it affects you,  Then discuss possible solutions. 
If you cannot resolve the issue, submit a complaint to the Code Compliance Section.  (refer to the "How to Submit a Complaint" tab below)
COMPLAINTS HANDLED BY OTHER DEPARTMENTS: 
How to Submit a Complaint (unincorporated Larimer County).
Any County citizen may make a complaint alleging one or more code violations.  You may submit a written complaint:
 In person at our office(s) located at 200 West Oak, Suite 300, Fort Collins or in Estes Park at 1600 Brodie Street
How Do I file a Complaint for a Vacation Home or a Short-Term Rental?
Code Compliance is primarily complaint driven.  If you see a violation, please report it.  Unfortunately anonymous complaints are not accepted.  
Please call 970-480-0865 to file a complaint or
Submit a complaint using our online form
Short-Term Rentals uses a "Three Strike" system.  Once 3 valid complaints are received, a code compliance case will be initiated and the STR approval will be reviewed.
How To Tell If the Violation is Within City Limits or Unincorporated Larimer County
Click on property search and input data.  
Click on question mark next to Tax District.  See below example.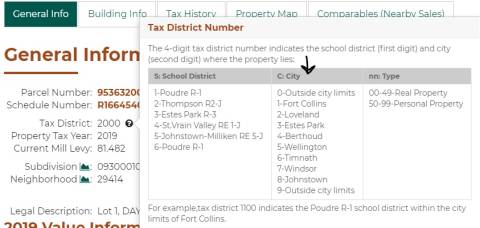 File a Complaint in Other Jurisdictions
Will It Be Known Who Filed the Complaint?
In most cases, yes. Code Compliance staff does not voluntarily release this information, but if asked, the information is subject to the Colorado Open Records Act. A complaint form is considered a public record subject to disclosure pursuant to state law.
Are Anonymous Complaints Accepted?
Under limited circumstances a Commissioner may accept an anonymous complaint. Those circumstances being:
When the complainant is experiencing a perceived or actual threat from the owner or operator of the property for which they want to file a complaint.
and
If the land use or building(s) on the property are a high priority Code Compliance Case type which would include:

Health and safety issues with a building, property, floodplain (e.g., people living in RVs and not sure where waste is going), or
An illegal use or expansion of commercial business. 
Due to the Colorado Open Records Act, Larimer County may not be able to guarantee anonymity. If you have determined based on the above circumstances an anonymous complaint is your only route to submit a complaint, please note the following instructions to assist in the ability to keep your complaint anonymous. 
If you choose to proceed with the anonymous complaint process, a phone call to the Commissioner for your district is the best route.  Commissioner Information & Contact
If a phone call is not an option for you, an email may be sent, but the subject line must include the word PRIVATE in it.  (Otherwise, the email is presumed public record.) 
When making an anonymous complaint, be prepared to provide the following information:
For anonymous complaint follow up purposes (seen by the Commissioner only)

Name, phone number and address, the concern, and why you feel threatened.

For Code Compliance research and violation follow up purposes:

What is the address of the property?
Describe in detail the possible Land Use Code, Building, or other violation.
Is the property accessible and is the violation visible from a public road (i.e., No private road, gates)?
What Happens After I Submit a Complaint?
Your complaint will be acknowledged, generally within 24 business hours of receipt.   The complaint will be assigned to the appropriate Code Compliance staff member who will, depending on the 
enforcement tools
available.  
How Do I File a Complaint Against a Contractor?
Complaints against Contractors can be filed with the Larimer County Building Department.
In person at our office located at 200 West Oak, Suite 300, Fort Collins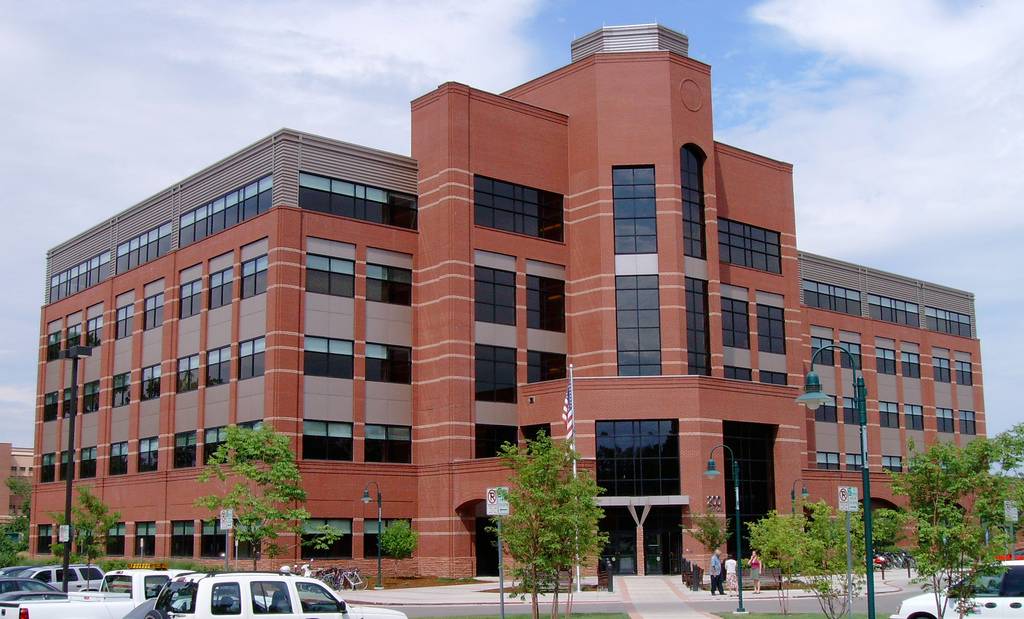 Contact Code Compliance
200 W. Oak Street, Suite 3100
Fort Collins, CO 80521
(970) 498-7683 or (970) 498-7700
Hours: 8am - 4:30pm, Monday - Friday
Department Directory