Road and Bridge Department
Report an issue
Report an issue on a Larimer County maintained road, bridge or drainage structure. 
This email address is not monitored after hours. For emergency issues after hours or on weekends, please contact Larimer County Sheriff's Dispatch at (970) 416-1985 or dial 911.
Maintenance Facilities
Estes Park Facility
543 Elm Road
Estes Park, CO 80517
Laramie River Facility
21137 CR 103
Glendevey, CO
(mail: Jelm, WY 82063)
Livermore Facility
2300 West CR 74E
Livermore, CO 80545
Loveland Facility
2205 East SH #402
Loveland, CO 80537
Stove Prairie Facility
17290 Rist Canyon Rd
Bellvue, CO 80512
Waverly Facility
241 W. CR 70
Waverly, CO 80549
Fast Facts
FAST FACTS
ROADS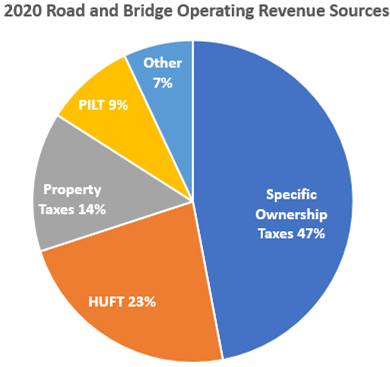 382 Miles of  paved roads (48%)
419 Miles of non-paved roads (52%)
100 Miles of Subdivision Roads
Average Vehicle Miles Traveled on Larimer County Roads
Paved Roads = 325 Million VMT (91%)
Non-paved Roads = 31 Million VMT (9%)
SNOW & ICE CONTROL
684 Mainline miles plowed
88 Subdivisions = 84 miles plowed
5,832 tons of ice & traction control material utilized
Average number of man hour per year on snow events = 12,967 hours
STRUCTURES & SIGNS
213 Major structures (>20 ft.)
449 Minor structures (<20 ft.)
4,300+ Cross culverts
10,657 Sign mounts w/ 13,189 sign panels
Road & Bridge Mill Levy (2020) = .813
$24.70 = The annual amount collected on property taxes that is for road maintenance purposes. Based on a residential structure valued at $425,000.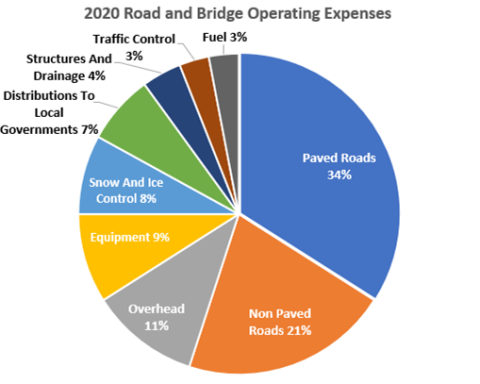 Road Maintenance Costs Per Mile
Paved Roads - $16,240
Non-Paved Roads - $12,980
Other important links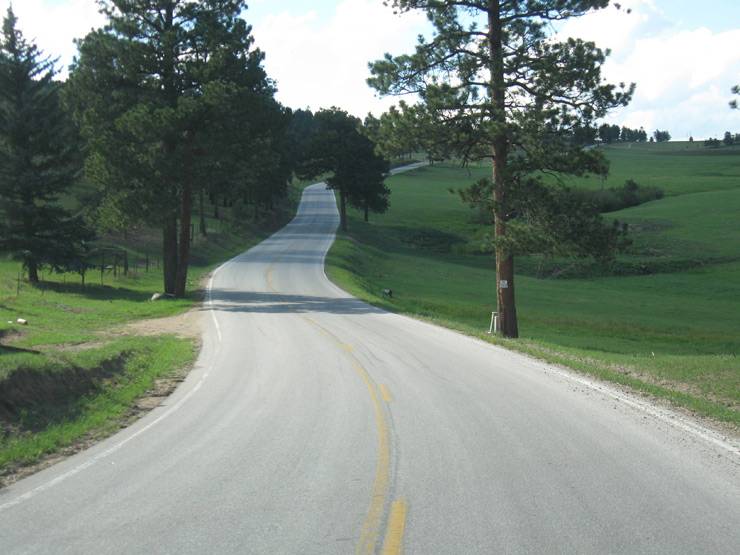 CONNECT WITH US
ROAD & BRIDGE DEPARTMENT
ADDRESS: 2643 Midpoint, Suite C, Fort Collins, CO 80525
HOURS: Monday-Friday, 7:00am-4:30pm
PHONE: (970) 498-5650
EMAIL: rab-admin@co.larimer.co.us
"Per the Americans with Disabilities Act (ADA), Larimer County will provide a reasonable accommodation to qualified individuals with a disability who need assistance. Services can be arranged with at least seven business days' notice. Please email us at rab-admin@co.larimer.co.us or by calling (970) 498-5650 or Relay Colorado 711. "Walk-in" requests for auxiliary aids and services will be honored to the extent reasonable but may be unavailable if advance notice is not provided."
Facebook
Twitter
YouTube