The Larimer County Dairy Cattle Project is a great way to learn about animal husbandry and overall care. Youth in the Dairy Cattle project interact with research-based information that encourages confidence, character-building, industry knowledge, and sportsmanship. Youth will can learn how to properly care for an animal and how to keep accurate records.
Why Participate in a Dairy Project:
Opportunity to learn about caring for a dairy cow
Build budgeting skills
Learn about accurate record-keeping
Lease a Dairy Program:
Some projects come with additional costs on top of the $50 enrollment fee. This is due to the materials or equipment you may need.
At Larimer County 4-H, we have a "Lease a Dairy" program. This means that you do not have to own a dairy animal in order to participate. This helps keep the potential costs significantly lower.
The cost to participate will vary per year, but the average cost is under $100 as long as you participate in the "Lease a Dairy" program. Any additional cost varies by the dairy sponsor and how far we have to travel to the dairy to work with the cattle.  If you choose to purchase your own dairy animal, the costs are expected to be significantly higher.
If you are interested in the Lease A Dairy program, you must let Shari (the project leader) know by October 31st, 2022!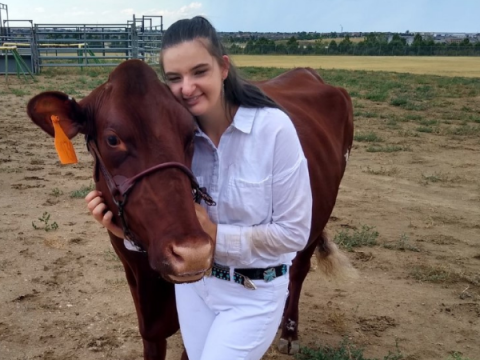 Image Credit: Jennifer Wildman
---
Colorado State University Extension is an equal opportunity provider. Colorado State University does not discriminate on the basis of disability and is committed to providing reasonable accommodations. CSU's Office of Engagement and Extension ensures meaningful access and equal opportunities to participate to individuals whose first language is not English. Colorado State University Extension es un proveedor que ofrece igualdad de oportunidades.
Colorado State University no discrimina por motivos de discapacidad y se compromete a proporcionar adaptaciones razonables. Office of Engagement and Extension de CSU garantiza acceso significativo e igualdad de oportunidades para participar a las personas quienes su primer idioma no es el inglés.
Col.st/ll0t3