HAE
Connect to Public Health Expertise
Page Under Construction
This webpage is in the process of being updated. Please check back soon for additional information. 
The Office of Public Health Planning and Partnerships is committed to serving as a resource to our partners. Our programs connect with community partners to provide public health perspective and expertise to implement policies and programs that promote evidence-based, equitable, and proactive health outcomes.  Areas of expertise include:
Social determinants of health
Positive youth development
Monitoring and evaluation
Workplan development
Facilitation
Research and best practices
Equity and engagement
Additional Information About Our Programs and Resources:
Tobacco Program, Prevention, and Quit Resources
Tobacco use remains the leading preventable cause of death and disease in the nation. Larimer County Department of Health and Environment is committed to preventing tobacco related death and disease in our community. 
Our three main priorities are:
Prevent youth initiation of tobacco and vape products
Support individuals who want to quit tobacco and vape products
Reduce tobacco related health inequities
Need to report a smoking violation or complaint? Visit TobaccoFreeCO
Prevent Youth Initiation of Tobacco and Vape Products
Nicotine use by youth and young adults causes both immediate and long-term damage. One of the most serious health effects is nicotine addiction, which can have severe health consequences. The younger the youth are when they start using nicotine, the more likely they will become addicted. The majority of all tobacco users started using by the age of 18, which is why it is important to prevent youth from ever experimenting with nicotine.
Trusted and informed adults/parents can have a big influence on youth by:
Encouraging healthy choices and setting clear standards. 
Schools can help youth by:
Equitably enforcing the Tobacco Free School Policies.
Educating middle school and high school youth who violate tobacco policy at school. Second Chance is a FREE online, interactive, self paced program that can be used as an alternative to suspension. Many schools have found this program to be a useful tool.
Communities can help youth by:
Limiting youth access to tobacco and nicotine products by reducing sales to minors. 
Including vaping products in the local smoking ordinance and expanding smoke-free areas (i.e. parks and trails, downtown area, hotels/motels etc.) 
Utilizing mass media campaigns to educate community members about vaping.
Exploring options that increase the price of tobacco and nicotine products, which is one of the most effective ways to prevent and reduce tobacco use.
Support individuals who want to quit tobacco and vape products
Quit Resources for Youth: 
Quitting nicotine and tobacco products can be hard and stressful.  However, youth and young adults stand the best chance of being successful if they make a plan and seek support. The resources below were made for youth and young adults who want to end their relationship with nicotine products. 
Online and Phone Support
Serves youth 12 years and older 
Free coaching by phone and additional support via email, text, or instant message
Young adults 18 years + may receive nicotine replacement therapy (FDA-approved nicotine gum, patches, lozenges etc.)
Text DITCHVAPE to 88709 to enroll
Exclusively a quit-vaping text message program for teens and young adults ages 13-24
Text "QUIT" to (202) 804-9884 
Offers customized content to give teens and young adults tailored quit tips and resources
Offers tools and tips to support to teens in quitting smoking 
Includes options for chat, text, and apps
Text "Start My Quit" to 855.891.9989 or call to talk with a coach who is ready to listen and cheer you on
Doctor or Dentist 
Although nicotine replacement products — such as nicotine gum, patches, inhalers or nasal sprays — weren't designed for teens, they might be helpful in some cases. Ask your doctor or dentist about the options.
School-Based Programs
Not on Tobacco (N-O-T) Program
10 week voluntary youth quit program facilitated in schools
Ask your school counselor or nurse if N-O-T is being offered in your school
Quit Resources for Adults
If you have tried quitting tobacco and/or nicotine and failed, don't be discouraged.  Most users fail several times before successfully quitting. Nicotine is a highly addictive substance. It is not easy to quit, but it can be done!  
Online and Phone Support
Serves youth and adults 12 years and older 
Free coaching by phone and additional support via email, text, or instant message
Adults 18 years + may receive nicotine replacement therapy (FDA-approved gum, patches, lozenges etc.) 
Text DITCHJUUL to 88709 to enroll
Exclusively a quit-vaping text message program for teens and young adults ages 13-24
You'll find support, tips, tools and expert advice to help you or someone you love quit smoking
Free quitSTART and QuitGuide apps available
Coaching and In Person Support
Get Help From Your Healthcare Provider
It can be difficult to quit tobacco. Ask your doctor about medications to help you quit. Medications combined with other supports have been shown to double your odds of successfully quitting tobacco.
Health District of Northern Larimer County's Quit Tobacco Program offers free individual or group counseling sessions with trained Tobacco Treatment Specialists to all residents of the Health District of Northern Larimer County. 
Reduce tobacco related health inequities
We all want the same thing: a healthy community where we and our loved ones can thrive. We can all contribute to healthy communities both through our own behavior and by supporting policies that protect everyone. That's why communities across Colorado are organizing to reduce the toll of tobacco. 
Why it is important: Over the last few years, youth cigarette use has been steadily declining. Yet youth vaping has seen a large increase. The Healthy Kids Colorado Survey is the only comprehensive survey on the health and well-being of young people in our state and is a good indicator of youth use in our community.
In 2019, we surveyed Loveland retailers to try to understand the level of support for local policy options.
Here are possible focus areas your community may be interested in pursuing:
Strong local tobacco retail licensing
As of May 2021,  Colorado requires all retailers of tobacco products to obtain a  tobacco retail license to sell. However, local communities can pass stronger policies that ensure local enforcement of the law, reduce underage sales and provide education to retailers.

Regular compliance checks may result in large reductions in the use of cigarettes and may also result in lower e-cigarette use.
An independent study conducted in Colorado indicates that retail licensing leads to lower tobacco violation rates.
Restricting flavored products
More than 80% of youth who have used a tobacco product started with a flavored tobacco product.
82% of teens report flavors as being the reason they use electronic cigarettes.

Restricting flavored products can be included in a local tobacco retail license policy. 
Increasing prices
Tobacco price increases are a proven tool for discouraging youth use.
New Colorado legislation has given local governments more control over the sale of nicotine products, including e-cigarettes.
Prices can be increased in a variety of ways, including taxation and laws and regulations establishing minimum prices, restricting the use of coupons, prohibiting the distribution of free samples, and limiting price discounts, giveaways, and retail value-added schemes (like "buy-one-get-one" free offers).
Smoke-free policies
Passing smoke-free policies is an important step in creating healthy environments. According to the federal Centers for Disease Control, the only way to fully protect nonsmokers from secondhand smoke is to eliminate smoking in homes, worksites and public places.
Tobacco-Free schools
Implementing a tobacco-free schools policy protects kids from secondhand smoke and encourages young people to never start smoking and/or vaping. We can provide local schools with the tools and strategies to develop and implement comprehensive policies and procedures so they can review, revise, implement, and enforce tobacco-free school policies in their schools and districts.
Find out what is being done at the state level.
Health Equity
Health Equity Framework:

A Roadmap to Improving Health for Everyone in Larimer County

What is Health Equity?
Health equity is the attainment of the highest level of health for all people. This requires valuing everyone equally, focusing on removing obstacles to health such as poverty, discrimination, and their consequences, including powerlessness and lack of access to good jobs with fair pay, quality education and housing, safe environments, and health care. Through the equitable allocation of resources and policies that promote equity, this can be achieved.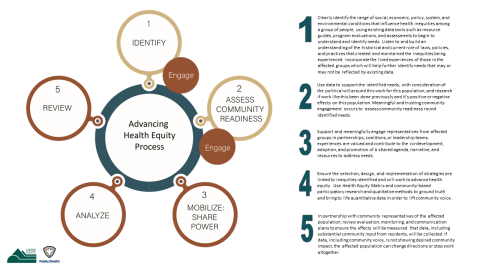 Resources to view or download:
Built Environment
Built Environment Program Overview
Definition of built environment from the American Public Health Association (APHA): 
"The built environment is the human-made features of our communities - sidewalks, public transportation, housing and more. The way we design and build our communities affects our physical and mental health."
Program mission and vision
Vision: We envision a community built for everyone that supports mental, social, and physical well-being
Mission: We promote health and equity in policy and planning through collaboration and community engagement.
Partnerships
Larimer County Planning Department
City of Loveland Public Works Department
The Family Center/La Familia
Bike Fort Collins
FC Bikes
North Front Range MPO
Colorado Department of Public Health and Environment, CCPD funding
City of Fort Collins Planning Department
Create Places
Institute for the Built Environment
Larimer County Department of Health and Environment, Environmental Services
City of Fort Collins Neighborhood Services
Loveland Housing Authority
Thompson School District's Safe Routes to School
The Larimer County Department of Health and Environment's Built Environment program works to support the residents of Larimer County in the following ways: 
Help people become more physically active (As outlined in the nationwide Active People, Healthy Nation Initiative). 
Provide input into planning efforts to create healthier communities
Connect community members and planners to create healthier communities
View
Examples of Past Projects 
Hickory Village Mobile Home Park:  The LCDHE Built Environment program helped neighbors of Hickory Village Mobile Home Park successfully apply for the installation of a volleyball court at nearby Soft Gold Park--a neighborhood improvement that the group had been trying to advocate for without success over the past few years--through a Vibrant Neighborhoods Grant from the City of Fort Collins Neighborhood Services department. We assisted the community throughout the entire process, from coordinating neighborhood meetings and identifying neighborhood improvement priorities, to determining project proposal details, communicating with relevant government staff, and filling out and submitting the application.
Lago Vista Photovoice: In collaboration with the Colorado Trust, we have been working with neighbors of the Lago Vista Mobile Home Park to identify neighborhood improvement priorities. Community members have expressed concerns with the lack of walking infrastructure surrounding the neighborhood: a grocery store and a public park are located within walking distance but there are no sidewalks or safe street crossings for the community to get there. As part of our work with the neighborhood, we have helped facilitate the development of a PhotoVoice project and are assisting them in communicating their concerns to relevant government staff.
Neighborhood Infrastructure Prioritization: As part of our work with Hickory Village Mobile Home Park neighbors, we led activities to identify their priorities for infrastructure improvements around the neighborhood. Some ideas that neighbors mentioned repeatedly were in relation to nearby Soft Gold Park and included the need for more amenities such as picnic tables, trash cans, signage, and trees. We helped communicate these needs to relevant staff at the Parks department, who installed more of these amenities around the park.
Partner Scan: In collaboration with the Community Engagement Working Group, we conducted an assessment among organizations working on built environment topics or providing services to communities disproportionately impacted by the built environment with the purpose of identifying gaps and opportunities for collaboration with organizations and local stakeholders. The assessment explored practices and policies for community engagement, capacity building, and partnering, and identified three areas of opportunity:
a) increase organizational guidance and skills for staff to engage community members
b) provide staff capacity to establish formal partnerships with community groups and organizations; and
c) for organizations that promote built environment policies and infrastructure, to strengthen collaborations with partners that provide services directly to community members.
Community Assistance Offerings
For Municipalities
One of our goals is to provide technical assistance that can build the capacity of municipal staff members by offering support on their plan and policy projects.  Assistance is catered to the municipality's needs and typically in the form of tailored resource creation, content curation for models and examples, and presentations on a variety of topics like equity, the connection between health and the built environment, and health promoting policy language.  
Identification of neighborhood needs and priorities: Offering tools and resources to municipalities interested in standardizing prioritization processes for infrastructure development and reinvestment.
Best practices for inclusion of health into the built environment: Content curation and dissemination of recent evidence-based research and case studies demonstrating the inclusion or absence of policies that affect the physical and mental health of a community through infrastructure (from transit to trails), zoning, land use, availability and accessibility of open space, and access to active transportation options.
Identifying policy language to support health and the built environment: Working with municipalities to identify gaps in their planning policies that may be preventing the city from effectively implementing and supporting the health for their community members.  Conversely, congratulating and celebrating municipalities who have implemented policy language that promotes a healthy lifestyle that is attainable and accessible for all community members.
Trainings on inclusion of health language into built environment policies: Working with decision makers and municipalities to understand the connection and co-benefits of health and the built environment and the case for embedding health promoting language into policy to support community wide health.
Creating of materials and identifying community health needs: Provide GIS assistance and activities to identify community needs to municipalities, community groups and community members to map the intersection between community health needs and planning.
For Community Members: Additionally, we can offer technical assistance to community members who are interested in learning built environment jargon, the identification and prioritization of neighborhood built environment projects, connections between built environment and health, and navigating and/or how to get involved in policy and comprehensive plan updates.
Community education on built environment and civic engagement: Providing learning opportunities for community members to learn built environment jargon and civic engagement processes.
Connecting community members to opportunities to participate in built environment assessments, improvements, and policy-making: Offering assistance to community members who are interested in making neighborhood infrastructure improvements to learn how to appropriately assess their community assets and navigate the policy change process.
Data and Population Epidemiology
The Population Epidemiology team seeks to share and visualize data to answer questions and contribute to community goals by: 
Providing support in identifying data sources to answer the questions and needs of community members and our partner organizations 
Highlighting community health needs, goals, and progress by developing a dashboard display [pending launch of County-wide dashboard]  of timely and actionable health data with input from our partners. Some initial areas of exploration for the dashboard include:

Behavioral Health
Access to Childcare
Food Insecurity
Climate Change related health concerns
Poor air quality
Excessive heat
Social Influences of Health
Other emerging Issues

Facilitating sharing data across organizations while maintaining the confidentiality of data
 
Office of Public Health Planning and Partnership