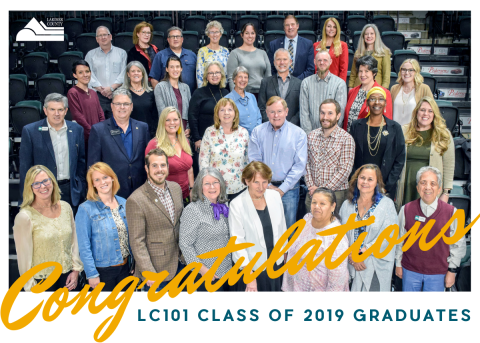 Session 1: March 21
Location
Agenda
Presentations
Session 2: March 28
Location
Agenda
Treasurer
Irene Josey, Treasurer
Assessor
Bob Overbeck, Assessor
Budget
Josh Fudge, Budget Director
Session 3: April 4
Location
Agenda
Steve Johnson
Larimer County Commissioner, District 2
(970)498-7002
johnsosw@co.larimer.co.us
Angela Myers
Larimer County Clerk & Recorder
(970)498-7852
myersag@co.larimer.co.us
Christine Day
GIS Application Program Analyst
(970)498-5022
daycd@co.larimer.co.us
Laurie Stolen
Behavioral Health Director
(970)498-7126
stolenle@co.larimer.co.us
Homework
Complete Activity Before Session 4 on April 11
Answered Questions
Performance Measures Dashboard
https://www.larimer.gov/budget/performance-measure-dashboards
Session 4: April 11
Location
Larimer County Loveland Campus
Big Thompson Room/Poudre River Room
200 Peridot Ave.
Loveland, CO 80537
Agenda
Economic & Workforce Development
Human Services
Health & Environment
Session 5: April 18
Location
Hearing Room
Larimer County Administrative Services
200 W. Oak St.
Fort Collins, CO 80522
Agenda
Coroner
K9 Unit
Sheriff
Justin Smith
(970) 498-5101
smithje@co.larimer.co.us
Session 6: April 25
Location
Powderhorn Room
Alternative Sentencing Department
2307 Midpoint Drive, Door #1
Fort Collins, CO 80525
Agenda
District Attorney
Cliff Riedel
District Attorney
(970)498-7211
riedelce@co.larimer.co.us
Alternative Sentencing
Jill Fox
Correctional Services Manager
(970)980-2655
foxjm@co.larimer.co.us
Community Corrections
Tim Hand
Community Corrections Director
(970)498-7516
handts@co.larimer.co.us
Homework
Prepare for the Community Development Mock Hearing by reading the "Hearing Procedures" and "Staff Report" documents.
Session 7: May 2
Location
Larimer County Administrative Services
Hearing Room
200 W. Oak St.
Fort Collins, CO
Agenda
CSU Extension
Community Development
Homework
Office of Emergency Management
For your homework, we are asking you to create an asset map of your neighborhood/community. Resilient communities are those that know how to access valuable resources or have connections with neighbors.
Instructions:
Draw a map of your neighborhood/community
Designate particular "resources" or "assets" of your area that you feel contribute to the resilience of your community. (i.e. Neighbors with Specialized Skills (Doctors, EMTs, Carpenters), Community Gardens, Faith-Based Leaders, Shelters, Grocery Stores, Food, Transportation Services)
Be prepared to discuss your map with the OEM representative during class.
Natural Resources
For homework:
 Take a few minutes to scan Larimer County's Open Lands and Parks master plans. These plans outline future projects and direction for our department.
Bring questions about the master plans to class.
Session 8: May 9
Location
Directions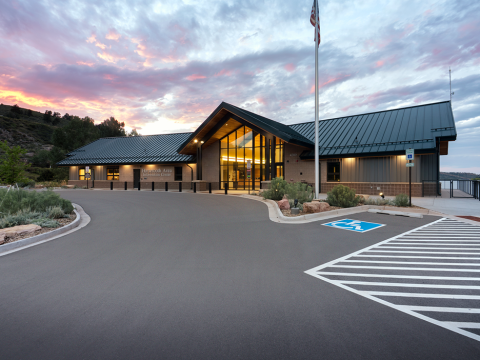 The entrance to the Horsetooth Area Information Center is stared in the image above. The entrance is shared with the surrounding campground, so turn into the campground entrance, but continue past the "pay station" until you see this building. There shouldn't be anyone manning the pay station since we are arriving after hours, but if there is, tell them that you are here for the Larimer County 101 class and they should let you through for free.
Agenda
Session 9: May 16
Location

We will meet in the Maintenance Shop, which is the first building on your right when you enter the Landfill off of Taft Hill. You may park in County Employee Parking Lot directly next to the shop.
Agenda
Engineering
Road & Bridge
Solid Waste
Graduation: May 23
Location
Budweiser Event Center
The Ranch Bar and Grill, 4th Floor
5290 Arena Cir, Loveland, CO 80538
Agenda
6:00 p.m. - Group Photo
6:15 p.m. - Welcome
6:30 p.m. - Dinner
7:00 p.m. - The Ranch Presentation
7:30 p.m. - Graduation Ceremony
8:00 p.m. - Closing Remarks
8:20 p.m. - Tour of Budweiser Event Center